iChoose.ph: The Leading Car Insurance Comparison Site in The Philippines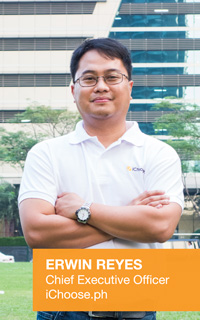 The Car insurance industry in the Philippines is still facing numerous problems. Even though there are a huge number of private vehicles in the country, car owners' questions about finding the right car insurance policy remain unanswered. As they are unable to understand fine points about the car insurance policies, they are losing thousands of pesos on this account. Due to this, they fail to get value for their money.
iChoose.ph Was Born to Make Car Insurance Selection Easy
For resolving these common concerns, Erwin Reyes, the CEO and founder of iChoose.ph along with his co founders, Jhun Reyes, the COO and Migs Cruz, CMO designed a solution for making car insurance options simple for the average Filipino.
Erwin and Jhun possess more than 15 years experience in the car insurance industry and the non-life insurance sector whereas Migs is highly experienced in Web Development, UX/UI Design, Digital Marketing & Analytics having served this field for 15 long years. Erwin's vision could be translated into reality through the help provided by his co-founders and their great determination to succeed. This website is driven by the idea to render car insurance comparison speedy, easy and convenient. It intends to revolutionise the way you make decisions while searching and purchasing a car insurance. Employing the World Wide Web advanced technology, this car insurance comparison site offers you diversified options that are otherwise missing in the traditional means of car insurance selection whether offered by a broker, an agent or even directly by the insurance company.
iChoose.ph is a car insurance comparison website serving Philippines, formulated to enable you to make the right decision about your choice of car insurance. Keeping in view different demands of car owners nowadays, iChoose.ph lets them find a suitable car insurance policy as per their needs in the easiest, pocket friendly and accessible manner. iChoose.ph employs World Wide Web as its platform where consumers have access to an unbiased quotation from the some of the leading car insurance companies in the industry.
The mission is to provide Philippine based car owners an insurance comparison website that is reliable, transparent and practical. It not only provides them options, but also answers their most common questions about car insurance.
Save time and money
This car insurance comparison website Philippines operates 24/7 online. It offers services without costly overhead that typical conventional companies have to deal with. We use these savings for providing affordable services and discounted rates to all our potential customers. We follow the basic principle that competition helps to create a healthy market for the car insurance customers.
Gathering information from different insurance companies, we provide quotes and price ranges in an easy and understandable manner. Here, we arrange your options from lowest to highest. Thus, iChoose.ph provides important information within shortest period of time for every customer.
Experience and Expertise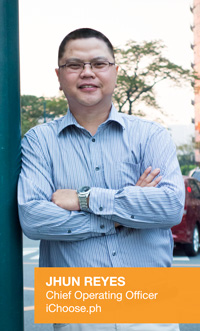 Founders of iChoose.ph have a rich and combined experience of more than 100 years in the insurance industry. Having partnered with the leading people in e-commerce, iChoose.ph provides a secure, user friendly and reliable car insurance comparison site that is compatible with modern devices like desktops, laptops as well as mobile devices.
How to Make Your Payment
iChoose.ph enables customers to make their payments through options like bank transfer, cash on delivery or online via PayPal. With this car insurance comparison website Philippines, people behind iChoose.ph provided you a secure and hassle free alternative for getting your car insurance.
Plans in the near future
iChoose.ph will keep on seeking ways for improving its service by devising more easy to compare quotes and insurance features. Other exciting lines will also be added to its comparison platform. The company believes that this is the time Filipinos get a true value service.