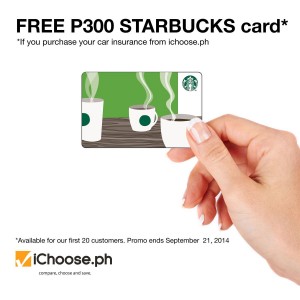 Thank you and congratulations to all our 20 valued customers who received their Starbucks P300 cards by simply comparing, choosing and saving with iChoose.ph!
Get your FREE P300 worth of Starbucks Card from iChoose.ph now! 
iChoose.ph, the #1 Car Insurance Comparison Site in the Philippines is introducing this new promotion to you our valued clients!  With a P300 card value that you can use at any Starbucks branches around the Philippines.
Question is how can you get a hold of this FREE P300 Starbucks card?
Well the answer is pretty simple, you just have to logon to iChoose.ph and start comparing car insurance to start saving thousands of pesos by simply choosing and purchasing your desired insurance package from us. You are now then automatically entitled for the promotion, regardless whether you buy it online or you give our office a call and we will help you transact over the phone or in person.
Upon delivery of your car insurance policy, iChoose.ph will include your FREE P300 Starbucks card inside your insurance package or we can hand it to you personally if we can.
This promotion is good only for our first 20 customers who will purchase their chosen car insurance package from iChoose.ph within the promotion period.
Promotion ends this September 21, 2014 so go and login or pickup that phone now!
You can visit our Facebook page for more upcoming promotions.