Compulsory Third Party Liability – What You Need to Know [Infographic]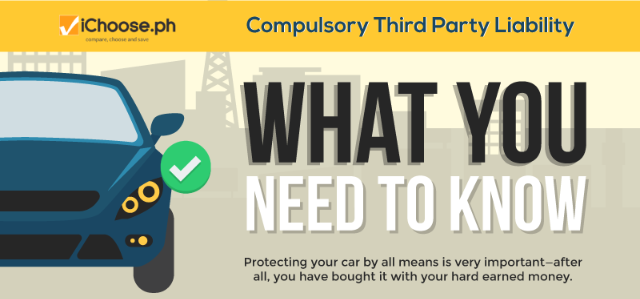 Protecting your car, by all means, is very important—after all, you have bought it with your hard-earned money.
Aside from ensuring that every aspect and surface of it is well taken care of, from the engine to the interior, every car owner should not forget about probably the most important protection one can provide its vehicle—insurance.
There are many and different kinds of car insurance for the owners to choose from, but, this infographic will focus on the Compulsory Third Party Liability Insurance—what you need to know and why is it important.

What is a Compulsory Third Party Liability Insurance?
Third-Party car insurance offers cover against any legal liability to a third party caused when you are at fault. It covers any damage or injury caused by the insured or another person.
The Philippine constitution mentions and dedicates one section of the Insurance Code of the 1987 Constitution, stating that it is the mandatory insurance for the possible liability to a third party. (Section 373c)
To understand this law better, we need to identify and establish who are the third parties pertained to by the insurance?
Citing the article, the "THIRD PARTY shall refer to any person other than a PASSENGER as defined in the law and shall also exclude a member of the household, or a member of the family within the second degree of consanguinity or affinity of the vehicle owner, or his employee in respect to death or bodily injury arising out of and in the course of employment."
In other words, people who are inside and riding your vehicle who are not your blood relatives are considered third parties.
Contrary to the definition of a passenger, which is any fare-paying person being transported and conveyed in and by a motor vehicle for transportation of passengers for compensation, including persons expressly authorized by law or by the vehicle's operator or his agent to ride without fare.
Simply put: Passengers pay a fare. They are considered a 'third party' once they arrived at their destination and get off of your vehicle
Inclusions of the Insurance
The CTPI covers the liability of the insured, in respect of the bodily injury and/or death of any THIRD PARTY in an accident caused or arising out of the use or operation of the insured vehicle.
Subject to the limits of liability stated in the policy, the insurer will pay all sums necessary to discharge the insured from liability, assuring the victim and/or his dependents of immediate financial assistance, regardless of the financial capacity of the motor vehicle owner.
Exclusions of the Insurance: 
Third-party only car insurance policy does not cover the cost of damages to a vehicle or the belongings in the vehicle in case of an accident. It will also not provide cover if your car or belongings are stolen or destroyed.
How much is the insurance coverage?
In the Philippines, the current CTPL coverage is amounting to Php100,000.00.
Third-Party Insurance vs. Compulsory Car Insurance: What are the key differences?
Which insurance should you prioritize in getting? These are some things to consider:
Car Value: If the value of your car is low, it is better to take third party motor insurance since repairs to damages caused can be managed cost-efficiently and easily. It is cheaper to pay for repairs when compared to paying the high premiums associated with compulsory cover. However, if the car is brand new and expensive, the compulsory cover is the better option.
Coverage: Third-party insurance covers damages to third party vehicle, injuries caused to other people in an accident, as well as damage to third party property. Some companies charge extra for third party property coverage. This coverage has become a priority these days since the cost of repairing damages to the car is high. But it does not provide you any coverage against damages to your own vehicle.
Expense: A compulsory cover is more expensive than a third party cover since it provides coverage for a wide variety of damages/injury/loss.
At the end of the day, it all boils down to preparation and protection. Accidents happen unexpectedly. Though nothing can really prevent it, one can prepare and take necessary measures to minimize its harm and damage.
Getting the right insurance policy is ultimately for you to decide. After all, your main goal is to have that peace of mind that when something bad happens, you come in prepared and protected.