Important questions to ask before buying a used car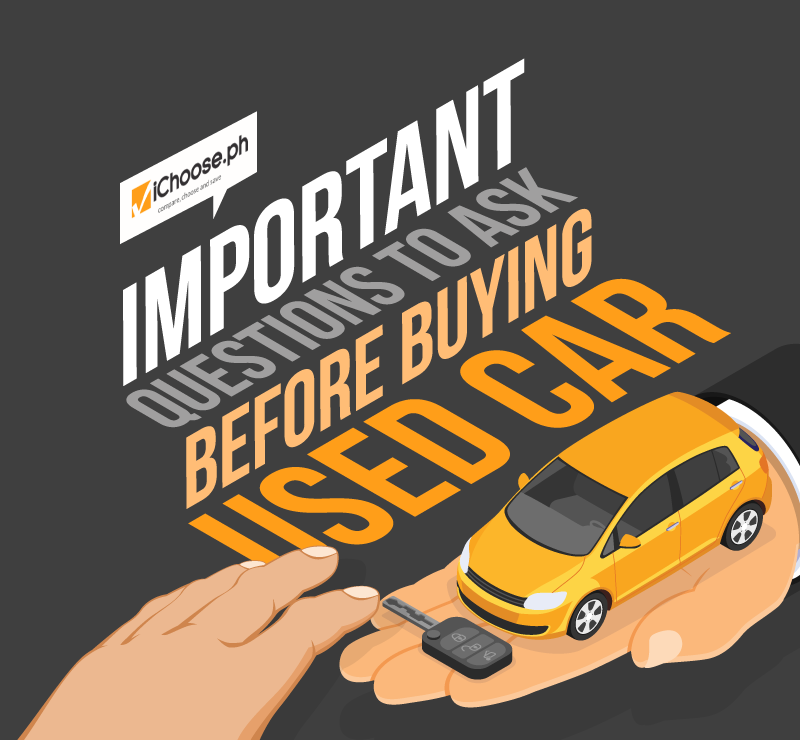 Purchasing a brand-new vehicle is a tempting option as it comes with the latest technology and safety features. However, for many, it may not be a sound financial decision. If you are planning to buy a new car, why not opt for a used one?
The reality is, a new car is expensive and might be out of reach for some. Whereas a used vehicle can save you money, help you manage your finances well, and provide you with quality transportation for many years.
A used car might be the best for you. So if you are finally on the hunt for a vehicle, ensure that you did research beforehand. There are many questions you must ask about the aspects of a used car.
Read on below for questions you need to ask before buying a used car.
Question #1: Why is the car on sale?
Asking the seller why the car has been put on the market will help you gain some insights in deciding whether to proceed with the sale or not. The seller might want a bigger ride, or perhaps it does not suit their lifestyle anymore, or there is something wrong with the vehicle.
Regardless, a trustworthy seller will give a concise reply. Be wary of those who might give long and complicated answers to prevent running into some issues after purchase.
Question #2: How was the car maintained?
A seller who takes good care of their vehicle is likely keeping records of maintenance history. The document can tell you if the car is serviced regularly and is taken care of properly. It includes oil changes, paintwork, tire replacements, and other tune-ups. You would want to look at this record so there will not be any surprises later on.
Question #3: Has the car been in any accidents?
This question should be addressed honestly, and if the seller avoids it, you should be concerned. Knowing any accidents, a car has been in can tell you how it was damaged and fixed. Meaning, you can find out if repairs have been made or not.
Question #4: What is the ownership history?
A used vehicle may have a few owners, and it is more desirable to choose one that is less used by people, especially if the car is only a few years old. If the seller is unsure of the ownership history or how long the previous owner used the vehicle, this may be a reason for caution.
Question #5: What features do not work?
Suppose you found a used car without any issues with its features, then good for you. However, it is always essential to ask first as defects such as weak air conditioning, blown speakers, or even a malfunctioning CD player can be a problem. The seller would be aware of any severe issues or repairs that need to be made.
Question #6: Can I take the car to a mechanic for inspection?
If you are serious about purchasing, ask this question to check existing mechanical problems or concerns. If there is any, you will be saved from high costs for repairs once the purchase has been made. Any reputable sellers would instantly agree to this request, and should there be any hesitations, that is a warning sign.
Question #7: Do I need car insurance?
If you are determined to purchase a vehicle, having car insurance in the Philippines should come next regardless of whether you are buying a used one or not. It can protect you and your family from any unexpected accidents that might happen. Having a comprehensive car insurance PH can ensure that you have adequate coverage to take care of any property or injury costs.
Final Thoughts
Purchasing a used vehicle is not an easy task, but if you know what questions to ask, you will have the correct information to help you make an informed decision with confidence. Additionally, keep in mind your budget and your wants and needs to determine if the vehicle will suit your lifestyle better.
Moreover, when insuring your newly bought second-hand vehicle, it is essential to shop around and compare car insurance policies to see which one fits your budget and needs. In addition, you can also utilize a comparison website, insurance Philippines to expedite the process of comparing policy coverages and rates from different insurance providers.
iChoose PH is the leading car insurance comparison site in the Philippines. It enables car owners to make the right decision when selecting a car insurance policy. Visit our website at www.iChoose.ph to view unbiased quotations from some industry's leading car insurance companies.
Read More: 10 Tips for Buying A Used Car in Manila: 2nd Hand Car Buying Advice [Infographic]