Tips for Finding the Right Car Insurance Policy [Infographic]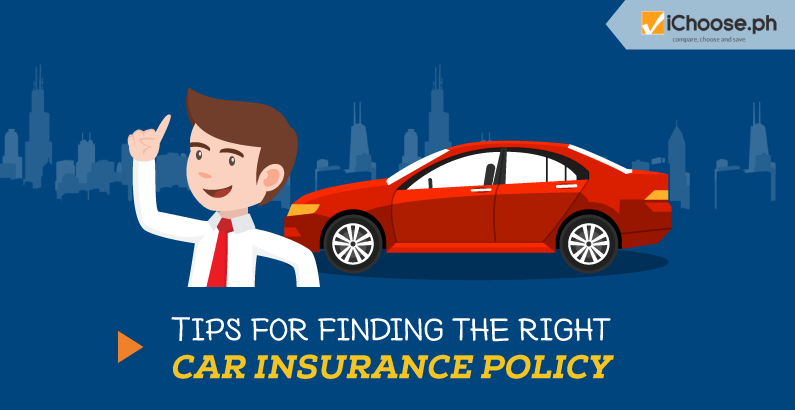 Having your vehicles insured should be one of your top priority as a car owner. Since nobody knows when will accidents and unfortunate events happen, it is important that you come prepared. While some may say that car insurances are expensive and unnecessary spending, it is actually one way of reducing car expenses in the long run.
Because of its intimidating terms and an overwhelming amount of details and information, many car owners may feel out of place when they talk about car insurance. Let alone be encouraged to buy one for their own. Some might even just resort to saying yes to the first car insurance company that offers something to them, which may lead to misunderstanding and unsatisfied expectations.
To avoid buying what you don't really need (or understand), here are some tips for finding the right car insurance policy for you:

Compare prices.
Check rates from other companies to make sure you are getting the best deal. This is why visiting online insurance comparing websites is also a great practice when deciding which company or type of insurance to go for. Aside from getting impartial details from a third-party source, it is also hassle-free and more efficient, especially if you are busy. Of course, personalized quotes aren't immediate and often require a call back from an agent, but comparison shopping online can be a time-efficient way to find a better deal.
Review the coverage.
Although it may be intimidating at first, read and review the coverage of insurance policies. Research about what these terms and information means, after all, you have to learn them as a car owner in your country. It would also be helpful if you have previous information about these so you can discuss them with the company.
Set the right deductible.
A higher deductible reduces your premium, but you have to pay more out of pocket in the event of an accident. If you have a good driving record and haven't had an accident that was your fault, you may want to gamble and opt for a higher
Maintain good credit.
Regularly check your credit score since a low score may impact your premium. Sometimes, companies offer better insurance policies to those with good or better credit profile.
Know the specifics.
Check to see where your insurer sends you for repairs, as the repair shop may push you to use cheaper replacement parts, rather than original equipment from the manufacturer. Sometimes, these details are hidden in a confusing insurance policy. Make sure you ask questions. After all, as a buyer, it is your right to know all the details.
Beware of scams.
Crooks can rip off drivers with staged accidents, which could result in an insurance claim against you. To avoid this unpleasant scenario, follow good driving practices and if you are in a crash, photograph the crash scene and always call the police to report the incident.
Take advantage of the discounts.
More often then not, insurance companies offer discounts and deals just to make a sale. There's no harm in grabbing them, as long as you were not pressured to do so, or buy the insurance for the freebies.
Choose the best company.
It is important that you have a little knowledge about this industry before fully entering it. Do your homework. Research which companies stand out and at the top spot. They are there for a reason. Know about their customer relations and other related services. The best company may not always be the cheapest, choosing the most credible and reputable companies are always a win.