How Can I Save Money on Auto Insurance? [Infographic]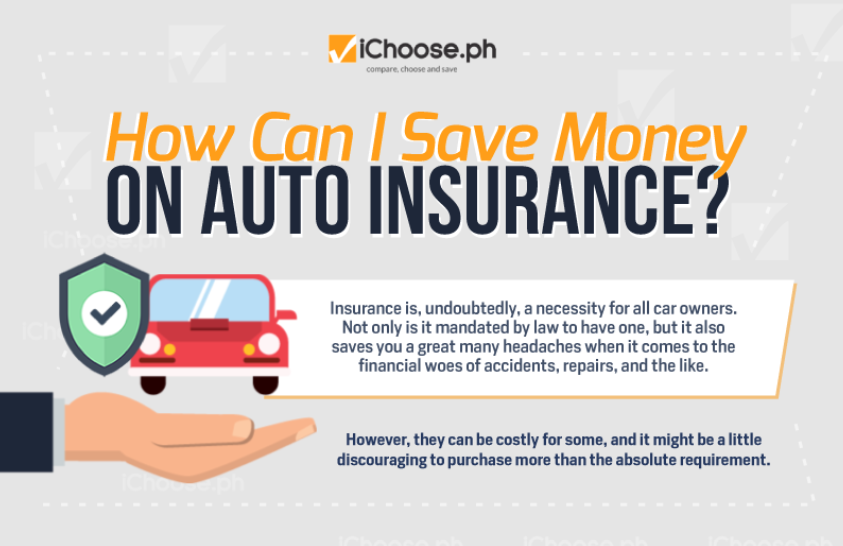 Insurance is, undoubtedly, a necessity for all car owners. Not only is it mandated by law to have one, but it also saves you a great many headaches when it comes to the financial woes of accidents, repairs, and the like. However, they can be costly for some, and it might be a little discouraging to purchase more than the absolute requirement.
But there are plenty of ways that you can get more for less! Car insurance prices are not set in stone, and with a little effort, you can get a great deal that can cover your well with a lower price. Here's how you can do so:

Shop Around
Prices differ from company to company, so it pays to shop around. At least three price quotes are a safe range to be in when it comes to considering and comparing insurance costs.
You can try various options to get different price quotes:

Calling companies directly
Checking with your state insurance department
Researching online, often with an insurance comparison website

While shopping, get quotes from different types of insurance companies. Some sell through their agents, some through independent agents who offer policies from several insurance companies, and some over the phone or via the Internet.
Don't shop by price alone. Get recommendations from friends and relatives, contact your state insurance department if they can give you customer complaints by company, or work with an insurance professional.
Assess Your Insurance Needs
Auto insurance has many types, and assessing what you need can help you lessen costs as it may turn out that you don't need every single one of them.
For instance, if you don't have ample savings to repair or replace your car if it were destroyed or stolen, then you definitely need collision and comprehensive insurance.
If you have an older car that's been paid for, however, then consider dropping collision and comprehension.
However, you should not go without liability and injury coverage because if you're in a serious car accident, you could be sued for a huge amount of money.
A good rule of thumb is not to buy those coverages unless the annual premium is 10% or less of your car's Blue Book value. Otherwise, you'll pay more in premiums than you could ever collect in benefits.
Maintain a Good Credit and a Clean Driving Record
You might be surprised to know that your credit plays a big factor in the rates you're quoted for car insurance.
Insurers use credit scores as a tool to help gauge how risky a customer might be. So that's just one more reason to maintain good credit scores by paying your bills on time and managing credit accounts responsibly.
Another factor car insurers use to gauge risk and set premiums is your driving record.
Having multiple moving violations and accidents on your motor vehicle record generally will cause you to pay higher insurance premiums.
Raise Your Deductible
A deductible is the amount of money you must pay before insurance benefits begin. The higher your deductible the lower your premium will be.
But the tradeoff with a higher deductible is that if you have a car accident, you'll have to pay more of the repair cost out of your own pocket.
Never raise your deductible unless you're confident that you'd have enough cash to cover it if you ever needed to make a claim.
Ask About Discounts
Insurance companies offer a variety of discounts, but they don't always advertise them. So speak up and ask how you might qualify for a lower premium.
For instance, you typically get a significant discount for purchasing multiple policies with the same insurer, such as your auto and renter's insurance, or having more than one car insured.
You'll also get discounts for:

driving a car with safety features, like anti-lock brakes or airbags
having a good driving history with few or no accidents
working in certain occupations, like medicine, education, or engineering
completing a defensive driving or accident prevention course
serving in the military
Consider a Multi-line
Many insurers will give you a break if you have more than one vehicle insured with them. Most offer some kind of discount to loyal customers.
Some might also carry discounts if you "bundle" two or more types of insurance, such as homeowners insurance along with your auto insurance. It's just a matter of asking if they give certain discounts for factors such as these.
Even so, it still makes sense to shop around! Compared with a multipolicy discount from a single insurer, you might still save money buying from different companies.