8 Reasons to Take Driving Lessons [Infographic]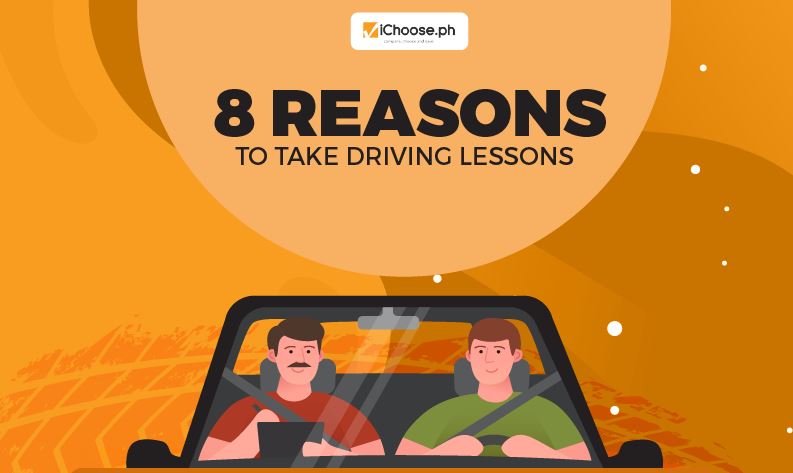 A lot of people see the convenience and freedom driving provides. Due to this, many are eager to drive. However, they must acquire the required driving skills and get a license before experiencing the benefits of driving.
Many Filipinos learn the basics of driving through a family member or a friend as it costs them nothing, compared with taking driving lessons, with prices ranging from Php 2,500 up to Php 15,000 depending on the training courses and the type of vehicle they will avail.
However, even if many Filipinos learn how to drive with their peers or families' help, taking driving lessons from driving schools is still necessary as it has now become a requirement to get a driver's license.
Although driving lessons may cost learners, these save them from the stress and anxiety of having to undergo driving tests multiple times. It comes as technicalities or simple mistakes during driving tests can lead someone to fail their driving tests. Hence, attending driving courses from qualified and trusted driving schools and certified instructors should be considered an investment.

Here are eight more reasons why you should take driving lessons:
1. Attending a driving school is a requirement before getting a driver's license.
In July 2020, the Land Transportation Office (LTO) has issued a public advisory. The government agency indicated that all LTO sites should only accept and process applications or transactions for Student Permit (SP), New Driver's License (DL), and Additional Restriction Code (RC) if the applicants have a Theoretical Driving Course (TDC) certificates.
The implementation of the policy started in August 2020. It requires all SP applicants, including those applying for foreign and expired SPs, to accomplish a 15-hour driving course and receive completion certificates issued by LTO-accredited Driving Schools, their authorized Driving School Instructors/Administrators, and by the LTO-Driver Education Centers (DECs) in LTO offices.
2. Professional driving schools can assist you when you apply for your driver's license.
The assistance provided by driving schools during the license application, whether for student permit or driver's license, is among the most significant advantages of enrolling in one. Accordingly, many academies further assist their students in taking their practical driving exam at the LTO office by letting them use one of the school's vehicles.
3. You will learn from certified driving instructors.
You can choose from a wide array of driving schools in the Philippines, but you must limit your options to only LTO-accredited driving schools as these academies hire TESDA-certified instructors. These professional instructors refresh your basic driving knowledge and impart to you both theoretical and practical driving information.
Additionally, attending driving lessons with professional instructors can help you identify any weaknesses you may have when driving, show you other driving methods to improve your skills and help you make educated decisions on the road.
4. Driving schools provide safety-focused education.
Driving schools highlight safety as one of the reasons why you should take driving lessons. Safety-focused education offered by driving academies makes new drivers understand what should and should not be done on the road, helps them develop appropriate driving habits, and teaches them the dangers of distracted driving.
5. Driving lessons can boost your confidence behind the wheel.
Confidence is mandatory for every driver on the road, as being afraid or hesitant when driving can lead to accidents. Driving lessons with professional instructors can train you to remain confident and calm in all situations, make you understand your car, and teach you what actions to take when you encounter an emergency, such as a car breakdown.
6. Driving lessons can build trust from peers and family when you are on the road.
Confidence on the road and knowledge on how to react when you encounter a problem on the road are two factors that can give your family and friends the assurance that they will be safe when traveling with you.
Driving lessons can help you gain valuable experience, including lessons on the right driving methods to maintain your safety on the road and how to handle harsh driving conditions.
7. You will learn "Defensive Driving" firsthand.
Some driving schools include defensive driving as part of their offered driving lessons. Driving instructors teach their students defensive driving skills that allow them to defend themselves against possible vehicle collisions that are often caused by poor weather or ignorant and reckless drivers who use their mobile phones or drive while under the influence of alcohol. It lets drivers use their safe driving practices to avoid dangers on the road.
8. Attending lessons offered by a professional driving school may lower insurance costs.
Some car insurance Ph providers offer discounts for those who have accomplished a defensive driving course from an accredited driving academy. Hence, one way to save money on your car insurance or lower your premium cost is to take driving courses that include defensive driving lessons.
As stated before, only some insurance companies provide this type of discount. Therefore, before enrolling in a defensive driving course or driving classes, it is better to ask the insurance provider about the discount when requesting a quote.
Subsequently, it is better to conduct car insurance comparison Philippines through a comparison website when selecting a car insurance policy. It will help you view various insurance policies and the benefits that come along with them.
iChoose PH is a car insurance comparison site in the Philippines. It enables car owners to make the right decision when choosing a car insurance policy suitable for their needs and budget. Visit their website at iChoose.ph to view unbiased quotations from some of the industry's leading car insurance companies.