How to Get Ready for a Christmas Road Trip [Infographic]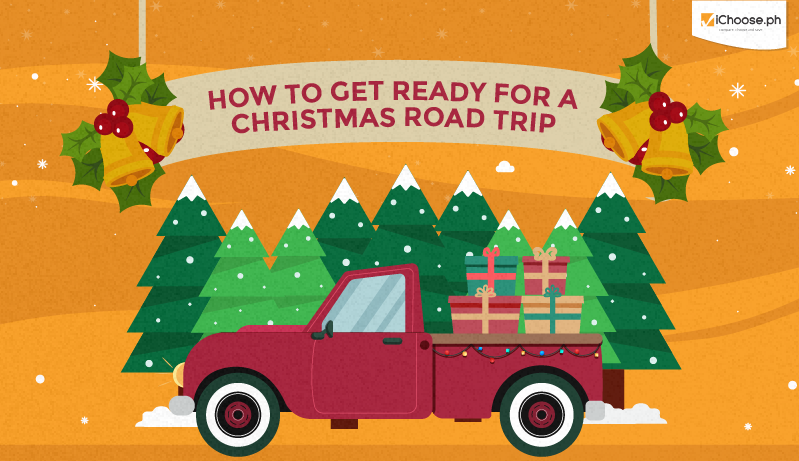 There are different ways for families and individuals to celebrate the Christmas season. Some people might opt to remain at home and celebrate there, while others might decide to pack their things, get their cars ready, and go out on a road trip to take a break from work or school. No matter the reason, travelers will need to know how they can get ready for their trip.
Drivers will need to know what to ready before their trip to ensure that they have an enjoyable and secure experience.

 Create the perfect playlist
Music quickly bonds people together, and it's no secret that having a good playlist can take the boredom away on a long trip. One good way to connect with friends is by setting up a playlist of around a hundred awesome songs that you can share with your friends to connect with them and to get them to know you more. Who knows, you might have a lot more in common through music.
You can also try downloading podcasts or audiobooks if you're traveling alone or with a group of friends who share the same interest.
Pack up on Snacks
No road trip is complete without snacks to munch on during the long drive since the only alternative to not having anything to snack on is either starving on the way or having to stop by every convenience store to grab a bite. Start shopping on fresh fruits, nuts, and water to keep yourselves healthy on the road. If all you want is to have fun on the trip with no weight concerns, then junk food and cola are the way to go.
You might also find a beautiful spot where you can have a picnic.
Have an Emergency Kit Prepared
Anything can happen on a trip, and it's best if travelers are ready for anything. Better to have something and not need it than to need it and not have it. Make sure to pack a first-aid kit and some medicine to patch yourselves up in case you receive injuries or feel ill in the trip.
It would help if you also carried some essential tools to fix your car up in case something happens on the road.
The other essentials in an emergency kit include extra water, snacks, jumper cables, batteries, flashlights, motor oil, and radiator fluid. When you're out traveling with a group of friends spread across various cars, then you might want to pack some walkie talkies in case something happens with the other travelers in another vehicle.
Clean Your Car Inside Out
A road trip meant to celebrate the Christmas season won't go well if the car's dirty on the outside and filled with junk and trash in the inside. Get your car washed and throw out whatever rubbish is in your vehicle and store whatever you're hoarding in it in another place so that you'll have a pleasant car to ride in.
Because you and your friends will likely be snacking on the trip, you should pack some trash bags or empty grocery bags to put your trash in. Pack some baby wipes too, so you clean up any spills in the car and ready a bottle of air freshener to keep your interior smelling good.
Have the Car Serviced
It might be a pain to get your car serviced when you're already hyped for a trip, but it's essential to ensure that your vehicle is in tip-top shape for the journey. Nobody wants to get caught in an accident or to be inconvenienced because the car has mechanical problems. Drivers should get their cars serviced by a trusted mechanic before going out on a trip.
If the drivers can service their cars themselves, then they should keep the acronym BLOWBAGETS, which stands for Battery, Lights, Oil, Water, Brake Air, Gas, Engine, Tire, and Self, in mind to know what to check on before traveling.
Get Insured
You can never be too safe when going out for a trip, and getting insured is an excellent way to ensure that the travelers will be financially secure in case anything happens on a trip. Travel insurance can keep you from having to shell out significant amounts of money when you need medical attention and when you happen to lose personal effects on the trip.
Car insurance is perfect for protecting the driver from incurring costs in case they get caught in vehicular accidents, mainly because there's a large number of drivers who'll likely be traveling as well this Christmas, and some of them might be irresponsible.
To know more on how you can prepare for your Christmas road trip with both travel and car insurance, visit our website at ichoose.ph.