Safety Tips for Driving in Adverse Weather Conditions [Infographic]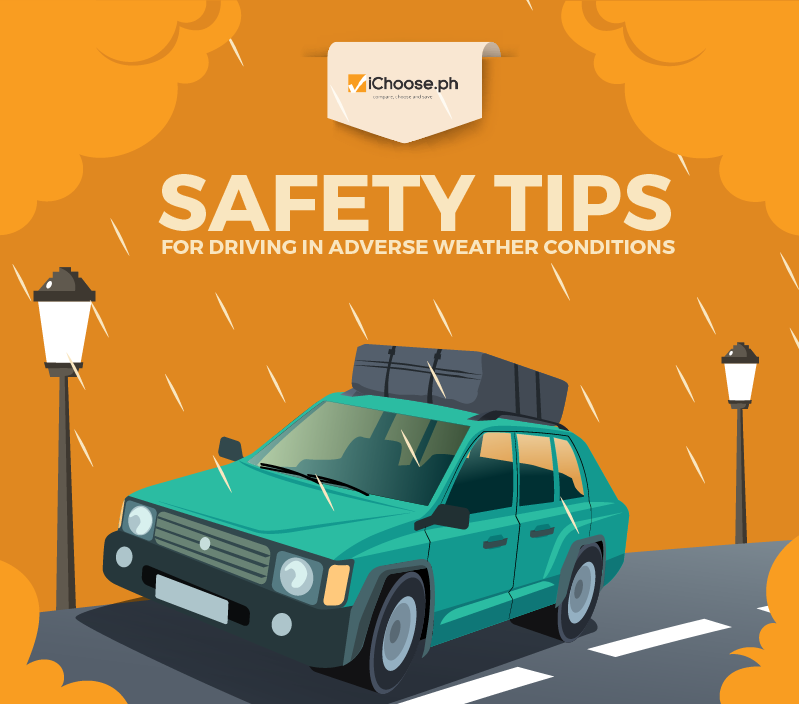 The Philippines only has a wet and dry season. Generally, the dry season starts from October to May, and the rainy season starts from June to the early part of October. However, the Philippine Atmospheric, Geophysical, and Astronomical Services Administration (PAGASA) details that the country may expect more rain during the early months of 2021.
Typhoons, tropical cyclones, and monsoons are often the factors that trigger rains. But the further strengthening of La Niña, the weather phenomenon known to increase rainfall patterns, is the reason why the country is likely to experience above-normal rainfall conditions this year.
According to PAGASA, inclement weather could lead to potential adverse impacts, such as heavy rainfall, floods, landslides, over highly vulnerable areas, which can be dangerous to drivers on the road. Many road accidents occur during adverse weather conditions, as driving in the rain can pose challenges for drivers because of reduced visibility and slippery roads.
During inclement weather, it is best to stay home. However, if it cannot be avoided, drivers must make sure they are well-prepared and know how to drive safely in adverse weather conditions.
Here are four safety tips for driving in adverse weather conditions:

1. Plan your route
When driving in bad weather, the best thing to do is avoid flood-prone and landslide-prone areas. To do this, they must plan their trip and gather accurate information about the available and passable roads for drivers.
2. Make sure the car is in optimal condition.
Aside from routine car maintenance every year, drivers must still thoroughly check their cars every time they take them out for a drive. It guarantees that the windshield and wipers, headlight covers, tire treads, battery, brake, gas, and engine work properly; thus, helping prevent damages while on the road.
3. Exercise caution
Driving through heavy rain conditions requires extra caution. Drivers must remember to:
Drive slowly
Make sure they, along with their passengers, are wearing seatbelts at all times
Avoid tailgating by keeping a safe distance from the car in front of them
Avoid driving through flooded areas
Slow down when approaching deep puddles and curves
4. Stay alert
It is a must for drivers to be vigilant and not distracted when driving. Consequently, when driving during inclement weather conditions, drivers need to double their attentiveness, watching out for floods, pedestrians, and other vehicles on the road.
5. Pullover if needed
At some point, the weather may become too bad to allow drivers to continue traversing on the road. When this happens, it is always wise to pull over on the side of the road, keep the headlights on, turn on the hazard lights, and wait for the rain to stop. It might be a little inconvenient, as drivers and their passengers may end up being late, but it is much better than putting themselves in a potentially dangerous situation.
Conclusion 
When driving in inclement weather conditions, it is always better for drivers to be safe than sorry. Exercising the abovementioned safety tips can help drivers protect themselves, their passengers, and their cars against road hazards during heavy rainfall.
Adverse weather and other natural occurrences can damage a vehicle, which often results in costly repairs. Getting a comprehensive car insurance Ph can financially protect drivers, particularly from the hassle of dealing with a car damaged during natural calamities.
Various car insurance providers have car insurance policies that cover Acts of Nature or Acts of God. When selecting an insurance policy for their vehicle, owners need to compare car insurance Ph. Comparison of insurance premiums will allow them to see which fits their needs and budget.
iChoose PH is the leading car insurance comparison site in the Philippines. It enables car owners to make the right decision when choosing a car insurance policy. Visit their website at iChoose.ph to view unbiased quotations from some of the industry's leading car insurance companies.