Car Registration Process [Infographic]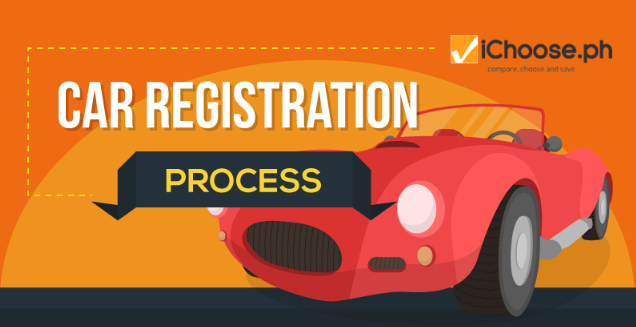 Most car owners already know this process, but for first-time car owners, here is how you register your car. Every year, the government requires each private vehicle to be registered and follow a specific process to ensure the safety of the drivers, passengers, as well as third party individuals and properties.
The whole process should be finished within an hour to 2 hours the most.  In the previous years when automation is not yet practiced.  A simple registration takes 3 to 4 hours.

Knowing your schedule.
The last digit of the plate number determines the registration month and the middle digit indicates the weekly deadline. For example, your plate reads: MGE 123, you should register on the 1st week of March.
If you bought a second-hand vehicle from a used car or used motorcycle dealership you are not allowed to change its license plate. This rule is under the provisions of the Batas Pambansa Blg. 43: An Act Providing Number Plates to Owners of Motor Vehicles and Trailers. This basically means that the car's license plate is meant to stay with it for a lifetime—with some exceptions.
Before proceeding to the nearest Land Transportation Office, make sure to prepare and settle the needed requirements for the registration process:
Secure your CTPL insurance.
The Compulsory Third Party Liability Insurance is an insurance that offers coverage for any legal liability to a third party caused when you are at fault. It covers any damage or injury caused by the insured or another person. According to the Philippine Constitution mentions and dedicates one section of the Insurance Code of the 1987 Constitution, stating that it is the mandatory insurance for the possible liability to a third party (Section 373c).
You can get your CPTL insurance inside or outside the LTO premises. The insurance price will also be depending on your vehicle brand and model.  Usually a private SUV cost between P650 to P900.  Insurance bought inside the LTO is much more expensive, ranging from P900 or more.
Passed the Emission Test.
Emission testing is also required by law.  This is the government's measure to guarantee that every registered car on the road does not emit too many fumes, nor the thickest of smoke while driving. If your car doesn't pass the test, you will need to have it repaired or fixed first to advance in the registration process.
Each test will cost you a little over Php. 400 per vehicle. There are designated emission test centers inside or outside the LTO premises, but you can choose the emission testing center you prefer, just make sure they are accredited by the Land Transportation Organization.
Get your vehicle stenciled and inspected.
The next step is having your car inspected and stenciled by LTO personnel. Just approach the people with LTO badge shirts so they can assist you in doing the stencil. Stenciling is also part of the LTO service or of the government-affiliated emission firm. It is usually free (unless you give the LTO personnel a tip).
Once you get the inspection form filled out, submit your form. They will inspect your car's:
Headlight (low light, high light)
Reverse/backing lights
Signal lights (front and back)
Park, tail and brake lights
Plate number lights
Suspension
Wheels aligned
Wiper
Horn
Pay the registration fee.
Go to the LTO inspector officer, who upon showing your emission test papers, will show you to the LTO cashier. Give the teller your documents (OR, CR, CTPL, emission result) and let it be processed. The Registration fee varies from 2,500 or more depending on your car, usage, and applicable penalties. Wait for your number to be called and pay.
Remember to always follow the LTO deadline discussed above, as a late registration can cost you a penalty of P200.0o if you have missed your deadline by a week. However, if your payment is delayed by more than a month, the LTO will fine you 50 percent of the user charge.
Once the fee is paid, the LTO will give you a receipt and provide you with the corresponding stickers you should put on your car's windshield.
Other reminders:
You can register for a different district office.
You can renew and register for any LTO District Office that is most convenient or accessible to you. But, there will be a charge of Php100.00 for Change of Venue (CV) of your vehicle registration.
The fine is computed weekly for late registration.
There is a weekly fine of Php200.00 for late registration.  But, when you're delayed for your payment in a month, the fine shall become 50% of the user charge. So, basically, renew and register on time!
New License Plates
In January 2015, the LTO started to issue new standard license plates so car owners who will renew their registrations will have to prepare an additional P450 for the license plates fee. These new plates should be available 45 days after the LTO registration renewal.