Number Coding Guide for Filipino Motorists in 2020 [Infographic]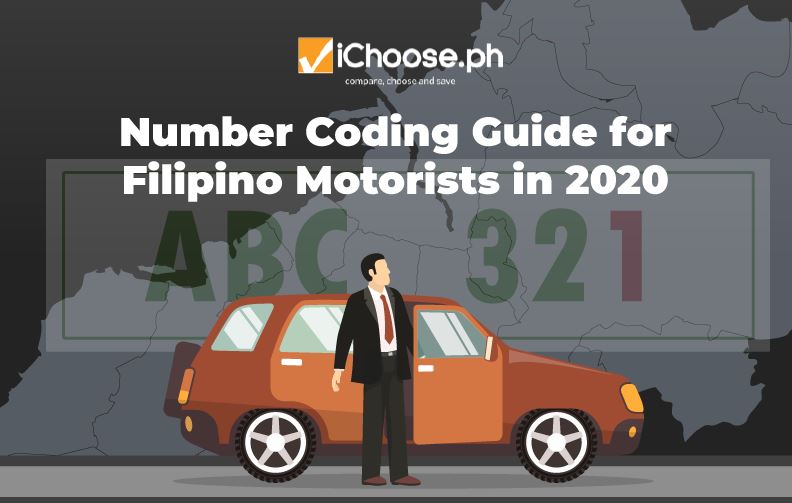 The Metro Manila Development Authority (MMDA) lifted the number coding scheme in March this year due to limited public transportation operations during the enhanced community quarantine in Metro Manila. Seven months after the suspension, the agency decided to keep the coding scheme lifted because of the limited number of public utility vehicles available for many Filipinos' return to the roads after the lockdown.
MMDA General Manager Jose Arturo Garcia has indicated that the number coding scheme remains suspended as long as the metropolis is under community quarantine. However, even when the MMDA decided to lift the number coding scheme on major thoroughfares in Metro Manila, the agency urged motorists to check if their local government unit (LGU) implements a localized number coding scheme.

What is the Number Coding Scheme?
The Number Coding Scheme or Unified Vehicle Volume Reduction Program (UVVRP) is a program under the MMDA that aims to limit the utilization of major public roads by private and public utility vehicles based on the last digits of their plate numbers. It is one of the solutions of the government to lessen traffic congestion, particularly during rush hours.
Number Coding Scheme in the Philippines
According to the UVVRP, the standard coding scheme period is from 7:00 AM to 8:00 PM on weekdays, Monday to Friday. Plate numbers ending with 1 and 2 are not allowed to travel on certain roads in the metropolis every Monday. Consequently, license plates ending with 3 and 4 are prohibited on Tuesdays, and 5 and 6 on Wednesdays. Plate numbers ending with 7 and 8 on Thursdays; and 9 and 0 during Fridays.
The number coding scheme is suspended during weekends, elections, and holidays, such as All Saints' Day, Christmas, and New Year. The MMDA can also announce the coding scheme's suspension during calamities or public transport failures, such as temporary closure of MRT/LRT lines or nationwide transport strike.
Areas implementing number coding:
Caloocan
Las Piñas
Makati
Malabon
Mandaluyong
Manila
Muntinlupa
Parañaque
Pasay (except for Airport Road, Domestic Road, MIA Road, Sales Road, and portions of Buendia)
Pasig 
Quezon City
San Juan
Valenzuela
Areas with no coding regulations:
Marikina (except for Marcos Highway)
Muntinlupa (except for Alabang-Zapote Road)
Taguig (except for C5, East Service Road, and Manuel L. Quezon Avenue)
Navotas
Pateros
Some cities implement 'window hours' to allow drivers covered by the number coding scheme to go through their towns without the distress of violations on a certain period of the day. Parañaque and Pasig have window hours between 9:00 AM to 4:00 PM. Meanwhile, Malabon, Manila, San Juan, and Valenzuela implement their window hours from 10:00 AM to 3:00 PM.
However, Mabuhay Lanes and all the national roads, including radial roads, circumferential roads, and other major roads in Metro Manila, are not supported by the window hours system. It means, during the entire duration of the number coding scheme on weekdays, coded vehicles cannot pass through these roads.
Here is the list of the major roads in Metro Manila with no number coding window hours:
Circumferential Roads
C1 – C.M. Recto Avenue (Roxas Blvd to Legarda)
C2 – A.H. Lacson Avenue and Pres. Quirino Avenue (Roxas Blvd to R10)
C3 – G. Araneta Avenue and Sgt. Rivera Avenue (N. Domingo Street to R10)
C4 – EDSA (R10 to Macapagal Blvd)
C5 – C.P. Garcia Avenue (Commonwealth Avenue to SLEX)
C6
Radial Roads
R1 – Roxas Blvd (C.M. Recto Avenue to MIA Road)
R2 – Taft Avenue (Lawton Avenue to Redemptorist)
R3 – SLEX (Pres. Quirino Avenue to Nichols Interchange)
R4 – Shaw Blvd (Ramon Magsaysay Blvd to Pasig Blvd)
R5 – Ortigas Avenue (Santolan to Imelda Avenue)
R6 – Aurora Blvd / R. Magsaysay Blvd (Legarda/Ramon Magsaysay to C5 Katipunan)
R7 – España Blvd, Quezon Avenue, and Commonwealth Avenue (Carlos Palanca to Quezon Avenue to Commonwealth Avenue to Mindanao Avenue)
R8 – A. Bonifacio Avenue (Blumentritt to EDSA Balintawak)
R9 – Rizal Avenue (Carriedo to Monumento, Caloocan)
R10 – Northern Coastal (Recto to C4)
Other Major Roads
A. Mabini Street – Samson Road to C3 Road
Alabang-Zapote Road – Alabang to Real Street/Quirino Avenue
McArthur Highway – Monumento Circle to Valenzuela/Meycauayan Boundary
Marcos Highway – Katipunan to Sumulong Highway (Metro Manila area)
Vehicles exempted from the number coding scheme
Although the UVVRP covers all private and public utility automobiles, certain cars are automatically exempted from the number coding system.
Here are the vehicles exempted from the regulation according to the MMDA Regulation No. 95-001:
Ambulances and emergency and relief vehicles
vehicles used by a medical practitioner in an emergency
vehicles carrying persons that need to be treated immediately without delay at the nearest hospital or medical institution
police cars and military vehicles used in actual operations expressly showing the station or military camp where they originated
school buses duly enfranchised as such by the LTFRB
diplomatic vehicles
official media vehicles
vehicles carrying perishable goods
What are the penalties for violation of the number coding scheme?
It is vital for motorists to familiarize themselves with their license plate numbers, particularly the last digit of their plates, to avoid using their vehicles on the imposed number coding days. Failure to comply with the regulation is considered a traffic violation in Metro Manila.
Suppose motorists are caught driving their vehicles in areas that implement the coding scheme. In that case, they will receive a traffic citation ticket from the traffic enforcer and have their driver's license confiscated. Accordingly, drivers also need to pay a standard fine of 300PHP, which should be settled within seven days or, they will have to face additional penalties when they renew their license.
Conclusion
Some Filipino motorists may see the number coding system as an inconvenience on their commute to work. Still, many people, particularly the government, see it as a solution to lessen congestion on the roads. It would be better for drivers to follow the regulations and be a part of the solution.
Aside from the number coding scheme, vehicle owners should be familiar with other traffic violations, such as illegal parking, failure to wear seatbelts, reckless driving, and driving without a valid driver's license. It would help them avoid being apprehended by traffic enforcers and face fines, which can sometimes be heavy on the pocket.
Subsequently, vehicle owners and drivers should consider availing a comprehensive car insurance Ph to protect themselves and their automobiles financially in case an accident or property damage occurs. The Philippines' roads can be a dangerous place as some roads are poorly maintained, other roads experience heavy traffic, and there are irresponsible drivers and undisciplined pedestrians.
Looking through comparison website insurance Philippines can help you select the best care insurance option for you. Visit our website at iChoose.ph to see the ideal coverage plan for you and your vehicle.