CTPL vs. Comprehensive Car Insurance: What is the Difference?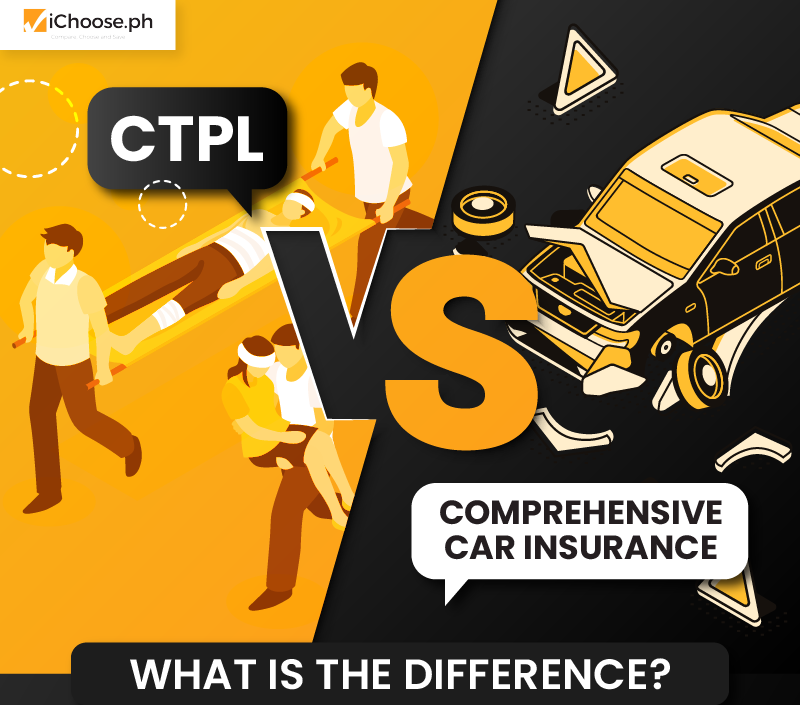 After purchasing their first vehicle, car owners should do the wisest thing next is to insure it. Acquiring a car insurance policy can provide them peace of mind and lessen their anxieties when dealing with the financial aspects of getting involved in an accident/incident.
In the Philippines, there are two main types of car insurance available for motorists: compulsory third-party liability (CTPL) and comprehensive car insurance. The main difference between the two car insurance types is their coverage offers. Accordingly, one insurance type is mandated by law, and the other is not – this is why vehicle owners must understand the differences between CTPL and comprehensive insurance.
Prerequisite vs. Optional
CTPL insurance is the basic or standard car insurance motorists must acquire before registering or renewing the registration of their vehicles at the Land Transportation Office (LTO). On the other hand, comprehensive car insurance is not required by law. It is the insurance type that vehicle owners can voluntarily get to protect against financial liabilities.
Advantages
Compulsory third-party liability insurance can protect vehicle owners if they accidentally hurt someone on the road or damage a vehicle or property. In contrast, comprehensive insurance provides the vehicle owners (assured) benefits that are not found on CTPL insurance – this includes financial coverage for medical expenses if they sustain injuries during an accident/incident or costs for vehicle damage repair.
Insurance Coverage
CTPL only protects vehicle owners from certain liabilities from third-party victims. It can compensate for permanent disablement and bodily injury done to third parties. In addition, CTPL also includes death indemnity and compensation for medical expenses of a third party.
Conversely, the coverage under comprehensive car insurance is extensive. It offers protection against third-party liabilities and financially protects vehicle owners against unfortunate damages and losses due to theft, accidental collision, personal accident, fire and explosions, malicious acts by third parties, and natural disasters (Acts of God).
Limitations
Compulsory third-party liability insurance does not cover damages to the insured vehicle; it only covers the car owner against financial liabilities from third parties involved in an accident or collision involving their insured vehicle. In addition, it only provides financial liability coverage of up to 100,000 pesos.
Correspondingly, while comprehensive insurance provides vehicle owners more coverage, the payable premium of this insurance type is slightly more expensive than CTPL insurance.
Customization
CTPL insurance plans can often not be customized to add more insurance coverage. In contrast, comprehensive insurance offers car owners more flexibility with their car insurance plans. Insurance providers allow their clients to add specific add-ons and covers to their policies to ensure full coverage and well-protected from possible financial liabilities.
Among the insurance add-ons that car owners can add to their insurance plans are: towing service assistance, locksmith service, legal assistance, ambulance service, fuel delivery, battery boosting or jumpstarting, tire replacement, and 24/7 customer care.
Which Type of Car Insurance is the Best for Vehicle Owners?
CTPL insurance is worth investing in as this enables car owners to comply with the law and avoid hassle during registration or renewal of registration of their vehicles. Acquiring a compulsory third-party liability insurance policy can already provide them a form of financial protection for themselves and their cars.
But if vehicle owners want to have a premium level of coverage against possible financial and even legal liabilities, investing in comprehensive car insurance can be worth it.
How to Choose the Best Car Insurance Policy?
With the broad range of car insurance policies different providers offer, it can be challenging for vehicle owners to determine the best insurance plan. Therefore, car owners must shop around and compare car insurance policies to ensure they get the insurance policy that has enough coverage and fits their budget.
One way to streamline obtaining and comparing insurance policy quotes is to utilize websites for car insurance comparison Philippines.
iChoose PH is the leading car insurance comparison website in the Philippines. It helps car owners to make the right decision when choosing a car insurance policy. Visit our website at iChoose.ph to view unbiased quotations from some of the leading insurance companies in the industry.
Read More: Car Registration Process [Infographic]