What Questions Do You Ask When Buying Insurance for Your Car?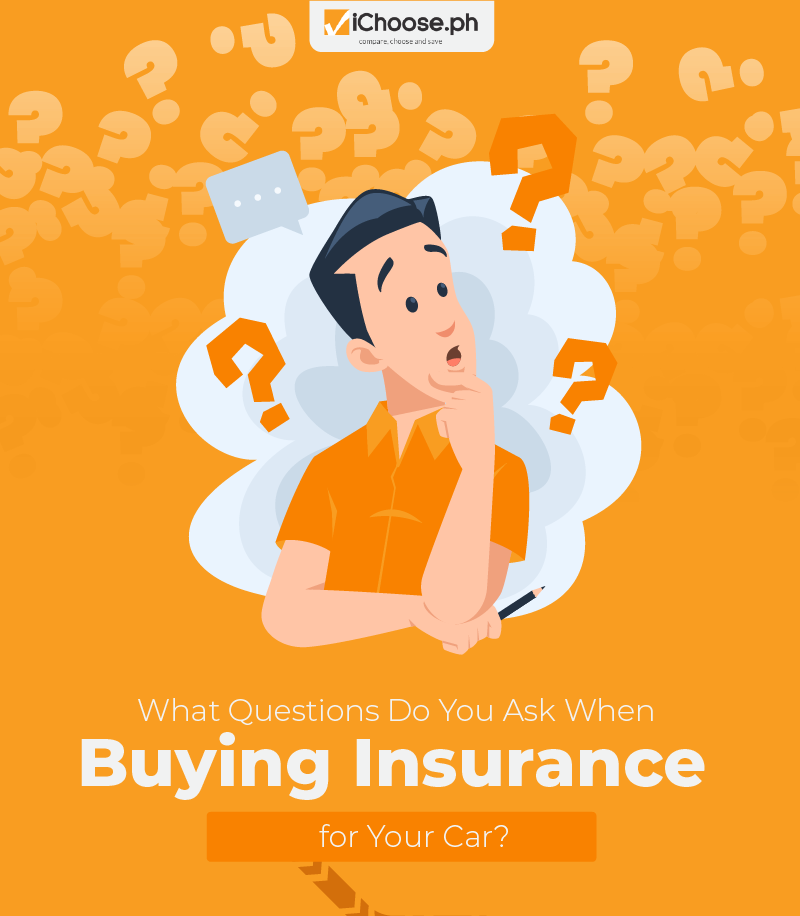 Buying car insurance can help you ensure financial security amid unforeseen situations on the road. It can provide you coverage for costs for property damage repair, vehicle repair costs, and medical bills due to an accident or collision incident.
Purchasing car insurance is not an easy task, as the process demands a lot of considerations. Hence, it would be best to have every question answered to gather all information you need to make an informed decision – this will enable you to select the best car insurance Philippines.
The insurance acquisition journey requires specific questions to be answered, and here are some of them:
Question: Which kind of car insurance do I need?
Answer: There are two types of insurance available in the Philippines: compulsory third-party liability and comprehensive car insurance.
If you want to register your vehicle or renew its registration, you must acquire compulsory third-party liability or CTPL insurance. Under Presidential Decree No. 612, car owners must purchase CTPL insurance and present it to the Land Transportation Office (LTO) during the vehicle registration or renewal process. Such kind of insurance offers the standard insurance coverage required under the law – this covers up to 100,000 pesos for bodily injury, death, and medical expenses of third-party victims due to an incident involving or caused by the insured vehicle.
Meanwhile, if you want to have extra coverage other than third-party liability coverage, you will have to acquire comprehensive car insurance. It provides coverage against loss, theft, property damage, accidental collision, personal accidents, fire and explosions, and malicious acts by third parties.
Question: Can I customize my car insurance policy?
Yes, it is possible to customize your car insurance plan. However, this is often possible only for comprehensive car insurance.
It is best to ask insurance providers if they let their clients have more flexibility with their comprehensive car insurance plans. You can add specific add-ons and covers to your policy to ensure full coverage from possible financial and even legal liabilities. Such add-ons include locksmith service, towing service assistance, ambulance service, fuel delivery, legal assistance, tire replacement, battery boosting or jumpstarting, and 24/7 customer care.
Question: How are insurance policy premium rates determined?
Insurance companies determine an insurance policy's payable premium rate not only by your car's make, model, and cost, as well as the type and amount of coverage you want to purchase. They also calculate your policy's rate through a risk assessment.
This assessment examines how much of a "risk" you pose to the company, determining your likelihood of getting involved in an accident and making a claim. Insurance providers consider various factors to determine your risk profile and premium rate, including driving habits, location, driving record, age and gender, and credit rating. The greater risk you pose to the insurance provider, the higher your insurance rate.
Question: What costs will I be covering "out of pocket" if I get involved in an accident?
Insurance companies charge participation fees to discourage people from making trivial or fraudulent claims. A participation fee is an amount policyholders pay out-of-pocket whenever they make an insurance claim.
There are two types of participation fees: deductible fee and depreciation rate.
A deductible is a type of participation fee which the policyholder has to pay whenever they make a claim involving vehicle damage or loss.
But not all car insurance policies have deductibles; this is only common on policies with collision, theft/own damage, and comprehensive coverages. The deductible amount varies depending on your chosen insurance plan. And while there is a standard minimum deductible amount under the Motor Tariff, you can opt to increase the deductible fee of your insurance policy – increasing your deductible can help lower your insurance premium.
Moreover, depreciation fee is the amount policyholders pay when buying new parts to replace damaged components on their vehicles. Insurance companies calculate this participation fee depending on the vehicle's age and its depreciated value. They also set specific requirements on who is eligible for a depreciation fee: a car that is at least over three years; and cannot be used for total vehicle loss.
Question: How do I select which company I should consider buying insurance from?
Answer: As car insurance is a significant investment that can protect against the financial woes of being involved in an accident or car collision incident, it is crucial to know where to buy your insurance policy.
Licensing, reputation, financial stability, claim handling, offered insurance coverages, and cost of policies are factors you need to consider selecting an insurance company.
How do I identify the best car insurance policy for me?
Not all offered car insurance policies are equal, and so are your circumstances. Hence, selecting a policy with enough insurance coverage will take time.
Since insurance policy coverage and costs differ from one provider to another, you have to shop around and compare car insurance plans. To streamline acquiring insurance quotes, which you will use to compare policies, you can utilize car insurance comparison websites like iChoose PH.
iChoose PH is the leading car insurance comparison website in the Philippines that helps car owners determine the best car insurance policy. Visit our website at www.iChoose.ph to view unbiased quotations from some of the leading insurance companies in the industry.
Read More: 8 Frequently Asked Questions About Auto Insurance