How to Get Car Insurance in the Philippines: A Beginner's Guide for Wise Savings [Infographic]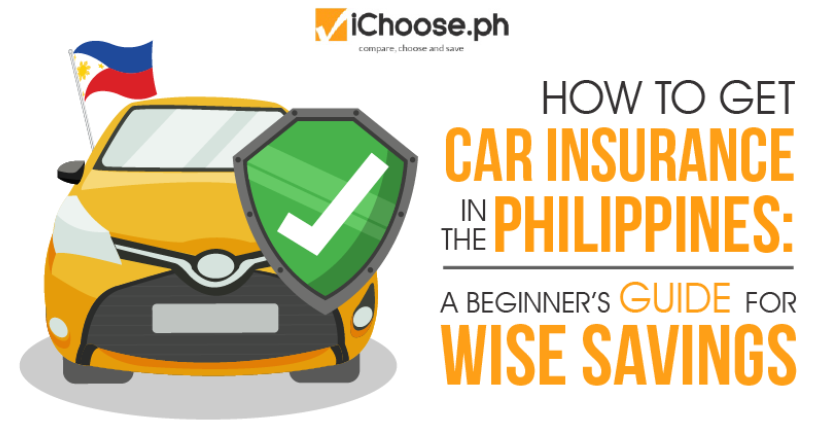 Most people in the Philippines have their car which serves as a service for when they are doing daily errands, going to work, among other things.
While quite hefty, being able to afford a vehicle is an essential investment for many Filipinos mainly because it is a reminder that their hard work pays off, and they can ultimately provide more comfortable transportation for their family.
Given that it's a serious investment, it is also an essential part for car owners to get it insured, not only to keep them financially protected in case of an accident but also to comply with local regulations.
To know more about how you can prepare in getting your car insurance, in this infographic, we will discuss first the definition, importance, and types of car insurance.

What is Car Insurance?
Car insurance in the Philippines is one of the overlooked parts when purchasing a new automobile. Some might have no idea about the coverage and period they should avail of in car insurance. If you're just about to purchase your first car insurance, here are some definitions and benefits that you can look into:
Car Insurance is for Financial Protection – Auto insurance is a contract between you and the insurance company that protects you against financial loss in the event of a car accident or theft. In exchange for your paying a premium, the insurance company agrees to pay your losses as outlined in the policy.
Car Insurance is for Physical Damage Repairs – Car insurance can pay to repair your vehicle after an accident depending on what coverage you select. Comprehensive and collision insurance are just two of the common types of auto insurance, and each comes with different rules regarding what is covered and what is not.
Car Insurance is not for Mechanical Repairs – Unless your mechanical damage is caused by an outside factor such as vandalism, fire, or a collision, your car insurance will not cover it. Wear and tear or bad quality is not something your car insurance handles. All mechanical repairs are your responsibility or possibly covered by your warranty if you have one.
Car Insurance is a Preparation for Law Requirements – First-time car owners are often required to have insurance, they need liability insurance at least, and if you get involved in an accident and you don't have liability insurance to present, you can lose your license.
Having insurance can not only protect you but also keep you out of trouble if you have an accident. Most of the time, you can buy your insurance at the Land Transportation Office (LTO) office in cash. You pay in advance for the whole year, and no cancellation or refunds are allowed. Having primary third-party insurance is the cheapest Philippines auto insurance plan.
Car Insurance Covers Repair or Replacement Costs – Depending on the severity of the accident, you will need to repair or replace your car. Being under the protection of car insurance saves you from significant costs with crashes. If your car is totaled, you will receive a compensation of the same value.
What are the Different Types of Car Insurance?
For newbie car owners, you might be asking how much car insurance cost in the Philippines. This depends on the value of the car that you've purchased.
To calculate or get the best estimate of your car insurance premium, you can use a car insurance calculator and enter your car/vehicle's make, model, and model year. You will then be able to compare insurance premiums and their added services and make an informed choice from the options presented to you.
To help you choose the right car insurance, here are the different types of available in the Philippines:
Compulsory Third-Party Liability (CTPL) – CTPL Insurance or Compulsory third-party liability insurance, also sometimes called Compulsory motor vehicle liability insurance, is the primary car insurance plan that every vehicle owner needs to get before registering a vehicle with the Land Transportation Office (LTO). It is required by the government, whether you will use the car for private or commercial purposes.
CTPL insurance will cover property damage, disablement, death, or the medical expenses of a person that was injured during a road mishap involving your vehicle. The policy can only be claimed if the operation of the insured vehicle caused the death, damage, or injury.
Comprehensive Car Insurance – This type of insurance covers a bigger, more specific list of needs and coverage. Though it is optional, vehicle owners know better than to skimp on getting comprehensive car insurance. Different providers offer different levels of coverage so you should consider that when making your decision.
Unlike CTPL, this covers the insured/car owner in case of accident, loss, and other damages brought on third-parties, for himself, and the passengers involved.
Reimbursements are provided for liabilities to own vehicle and third-party's damaged vehicle, as well as damages through Acts of Nature such as typhoons, floods, earthquakes, and other natural calamities.
What are the Different Steps in Getting a Car Insurance?
Do your Research About Local Car Insurance Companies – Take the time to find out what is available to you, who the best companies are, and what special discounts or services they offer to their customers. If you're already thinking, "I don't have time for this," an independent insurance agent can do the legwork for you.
Know the Coverage of your Chosen Car Insurance – It's important to know how much protection you require when making decisions about the amount and type of coverage that is best for you.
For example, choosing higher bodily injury and property damage liability coverage will provide you with greater protection but will also increase your premium. Selecting higher deductibles will decrease your premium because you will be responsible for a more significant portion of the repair costs.
Compare and Contrast – Always get multiple quotes and make sure you receive quotes for the same coverage so that you are comparing apples to apples. This is the only way you'll know whether the price you've received is competitive.
For example, when comparing costs, make sure that the policy length offered by each company is the same, so you're not comparing a 6-month policy from one company to a 12-month system from another company.
Ensure that you Read your Policy Documents Before and After you Sign – Being a wise investor is one of the qualities that one should have when it comes to finding the right insurance for their cars.
You are responsible for the accuracy of your insurance application, so be sure that it is correct and complete before you sign it. Also, your policy is a legal contract that spells out the conditions under which you can be paid for a claim.
When you receive your plan, review it to be sure it reflects what you believe you purchased. If you have questions, don't be afraid to ask the agent, the insurance company, or your state insurance department.
If you are interested to learn more car insurance, you may contact iChoose.ph or go to our website at www.ichoose.ph today.