Lessons from Coronavirus: Why Car and Motorcycle Insurance is Vital in the Philippines [Infographic]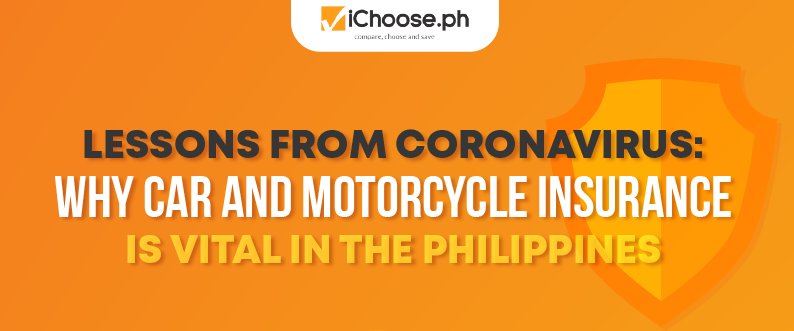 Many people worldwide realized the importance of staying healthy amidst the coronavirus pandemic since it is one of the sure ways to avoid contracting diseases. People purchased vitamins of all sorts to keep healthy, and others may have started comparing health insurance as they realized its importance for the new normal.
The pandemic showed how vital insurance is in the Philippines since they can reduce one's overall expenses for anything covered by the plan. Medical bills can be covered entirely or reduced by significant amounts with health insurance, while costs from vehicular damages are covered by either car or motorcycle insurance. Various road accidents still occurred during the ECQ or Enhanced Community Quarantine period when fewer cars were on the road, and more accidents can happen during the current GCQ or General Community Quarantine period.
Both car and motorcycle insurance are vital to ensure that Filipinos who just got out of quarantine are protected as they adjust to the New Normal.

Cover Accidents
Accidents still occurred during the Enhanced Community Quarantine, like when a doctor died in a car crash in Manila or when celebrity Mikael Daez's car was bumped by a tired rider. Such events occurred when there were limited numbers of vehicles on the road, and the number of accidents will likely go up as more and more riders and drivers go out again.
Both car owners and riders can suffer financially when caught in an accident, and insurance plans can help them with their problems. Personal accident coverage can keep people secure when their cars crash due to various reasons.
Cover Liability
Comprehensive car insurance in the Philippines can cover liability far more than what the compulsory third party liability coverage can provide. The CTPL coverage only covers third party bodily injury and death, and any damages to the third party's property aren't covered. CTPL is inadequate to cover all the costs of an accident.
Voluntary third-party liability coverage for both injuries and death and property damage is available in comprehensive insurance plans, and the insured won't have to worry about paying out of their pockets.
Protect Yourself from Uninsured and Underinsured Motorists
Not all drivers also have CTPL insurance even though it's mandated by law, so it's reasonable to assume that even more motorists aren't insured. With more people going out during the GCQ period, the chances of getting caught in an accident increase and become more problematic if neither you nor the other party is insured.
The financial risks associated with road accidents can only be reduced and eliminated with insurance policies. Comprehensive insurance plans with personal accident coverage can cover the damages you received, even when the at-fault driver can't cover the expenses. The majority of car owners and motorcycle riders are responsible for the road, and many of them are also uninsured or underinsured, so it's vital to stay protected from them.
Protect TNVS Drivers and Food Delivery Services Riders
TNVS services in Luzon were temporarily stopped during the ECQ period to limit the people's mobility and help curb the spread of the virus. Food delivery riders managed to continue their operations, and their services were in high demand during the lockdown. Now, during the GCQ period, people can go back to work, and TNVS services have resumed their operations. They became sought out again since some of the most convenient transportation options are still unavailable, and because there are limitations on the buses' passenger capacity.
Both TNVS drivers and food delivery riders can crowd Manila's roads and increase the chances of accidents occurring. Such motorists need adequate protection to ensure that they don't suffer more when they just got back to work.
Conclusion
Road accidents and vehicle collisions can occur anytime, and it's essential to stay prepared for anything that might happen. Car and motorcycle owners should get the best car and motorcycle insurance PH, respectively, to ensure that they're financially secure on the road. People should also get the most affordable insurance plan they can get through motorcycle and car insurance comparison Philippines. Start comparing policies now by visiting us at www.ichoose.ph or contact us at 875 6677.