Why is Motorcycle Insurance Important for Filipinos? [Infographic]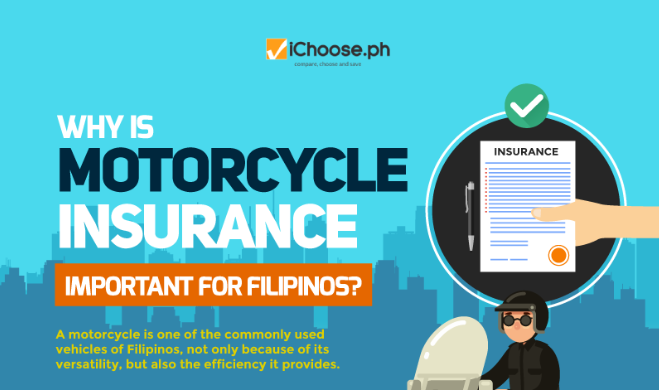 Why is Motorcycle Insurance Important for Filipinos? A motorcycle is one of the commonly used vehicles of Filipinos, not only because of its versatility, but also the efficiency it provides. Driving a motorcycle is also one of the sources of income of most Filipinos; many passengers prefer riding this than taxicabs because they can arrive on time on their destinations.
But, as we can observe on the daily news, more and more motorcycle drivers get involved with accidents that result in severe physical injuries, and at times, death. That is why, having motorcycle insurance is essential, especially if you just bought your vehicle.
A standard motorcycle insurance policy will cover some portion of the costs associated with damage to your bike.  It will also provide compensation if you cause harm to another person or their property or have legal fees to pay an accident. Known as "bodily injury and property damage liability," your motorcycle liability insurance covers the cost of liability claims and legal fees, up to the limits of your policy, if you are at fault in an accident.
In this infographic, we will discuss five different ways to justify the importance of motorcycle insurance to Filipinos. Here are the key points that you should consider:

Provides Damage Coverage – If you get an accident and your motorbike was damaged or totaled, the motorcycle insurance will cover the cost of damage. An example: you had an accident, and your motorbike headlight, signal light, and the front wheel are broken. The insurance company will pay the cost of new parts and maintenance.
Theft Protection – If your motorbike is stolen, then the insurance company will pay. The payment is paid according to the value of the motorcycle which the customer has declared in the policy. For example, if you bought a motorbike for PHP 60000, you would be paid the purchase price of the motorcycle. Also, note that each insurance company has their policy of payments, some insurance companies pay 5 percent less as their service fee, and that's why some people do not claim the same amount of the value of their purchased motorcycle when stolen.
Collision Coverage – You could add collision coverage as part of your motorcycle policy. Collision insurance can help you if you are in an accident and have to cover the cost of another persons' property or their vehicle. This comes in handy if the accident is determined to be your fault. Always remember that purchasing a car, whether an automobile or a motorcycle requires responsibility, and that means that you should be responsible for the coverage of your selected insurance policy.
Physical Damage Coverage – Every accident that riders met on the road is always different from anyone else, and at times, severe physical injuries are met. Availing motorcycle insurance that covers assistance through the physical damage that has done to you, your passengers, and to the opposite party (caused by the collision) is the best choice to add to your insurance needs.
Extends Useful Life of Your Bike – Purchasing vehicles that help you to travel from one place to another is considered an asset. Just like how you avail insurance for your house, health, and car, motorcycle insurance prolongs and maintains your bikes' usability because it covers the parts that are expensive to repair. If you plan to race your bike, either competitively or for fun, it is even more vital that you insure yourself and your bike. This is true whether you plan to race on level ground or off-road, motocross tracks.
Availing motorcycle insurance can be expensive but remember that life is also precious and that every day is full of uncertainties. Being a responsible rider brings awareness to other drivers that availing motorcycle insurance is essential for prolonged use of your motorcycle and being prepared in any accidents.
If you are interested to learn more and avail quality motorcycle insurance for your vehicle, you may check out our website at www.ichoose.ph or contact us at 875 6677 for faster transaction and inquiry.