Helpful Apps for Filipino Drivers [Infographic]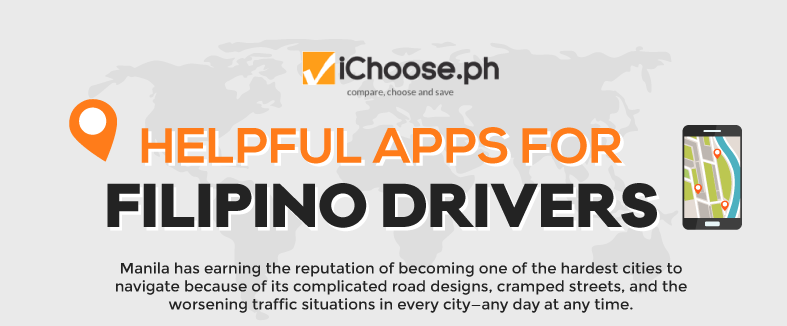 Manila has earned the reputation of becoming one of the hardest cities to navigate because of its complicated road designs, cramped streets, and the worsening traffic situations in every city—any day at any time.
Because of the arising need, more and more innovators have developing new ways to accommodate the increasing number of car owners and drivers traveling through the city's streets. One of the most probable solutions in combating the difficult driving condition in the Philippines in the development of apps that help not only in navigation but as well as outsmarting the traffic for private car owners. These apps generally improve your driving experience.
From navigating the city to getting real-time traffic alerts, here are the mobile applications that truly deserve a place in every driver's smartphone:

Waze
Probably one of the most popular and downloaded mobile applications when it comes to navigation is Waze. Basically, it is a navigation app that lets its user know the best and fastest route they can reach their destination. It also offers real-time traffic, vehicular accident, and road closure updates, which help drivers travel smoothly and easily.
Private car owners are not the only ones who benefit from the app. Ridesharing services, which are a hit in the country, also officially use this application to make sure they "hatid" their passengers safely and more efficiently.
Waze is a community navigation app, which means all its information, from real-time traffic to road blockage, is shared by the users. It also has an added security and safety feature that lets you alert your friends and contacts to let them know your exact location and your estimated time of arrival. It can be downloaded for free by Android and iOS users.
Google Maps
Another popular app is Google Maps, which is basically just like Waze which gives the directions to drivers, giving the suggestions of which the fastest route to a destination is. Additionally, it also provides information on transit schedules, new places to discover, etc.
Plus, it's street viewfinder allows the users to see the actual view of the place, making identifying landmarks easier. Google Maps can be accessed on Android phones, iPhones, and even a desktop computer.
NAVITEL
Navitel Navigator is one of the less commonly known apps that can greatly contribute to helping the Filipino driver navigate Manila and other key cities in the Philippines. It is a precise offline GPS navigation with free geosocial services and detailed maps of the country, as well as 64 other nations. One of its unique features is its weather forecast, SpeedCam warnings, 3D mapping, and Multilanguage support.
iOnRoad
Unlike the previous apps, iOnRoad is not a navigational tool, hence, it is an added security app that enables the smartphone camera and sensors to detect vehicles in front of their car. It also has a built-in Visual Radar to map objects in front of the driver in real-time, so they can calculate the current speed. It can be downloaded for free only for iPhone, Samsung, and LG users.
MMDA app
Did you know that the Metro Manila Development Authority or MMDA has its own app for traffic updates and other road matters? Launched in 2011, the MMDA app provides real-time traffic information within Metro Manila. The app lets users view the traffic situation in major roads, namely EDSA, C5, SLEX, Commonwealth, Ortigas, Roxas Blvd., Marcos Highway, España, Katipunan, and Quezon Avenue.
The app also indicates whether the traffic situation is light, moderate, or heavy, and this can be viewed in System, Line, or Map view. It allows users to post traffic reports on Twitter, and access the MMDA directory in the app.
It can be downloaded for free by Android and iOS users.
Southern Tollways System
If you are from the south, this free application is perfect for you. The Southern Tollways System app provides updates on traffic situations in Skyway, SLEX, and STAR Tollways. It gives users information on whether the traffic situation is light, moderate, or heavy. App users are also updated with live incident reports.
Twitter
While some major roads in Metro Manila are yet to have and launch their own mobile applications, netizens and drivers can rely on Twitter for real-time updates on road conditions, traffic situations, and letting their friends and family (or even the whole world) know where they exactly are.
The recommended accounts to follow if you will use it as a navigating guide are: