Lessons from Coronavirus: Importance of Insurance in the Philippines [Infographic]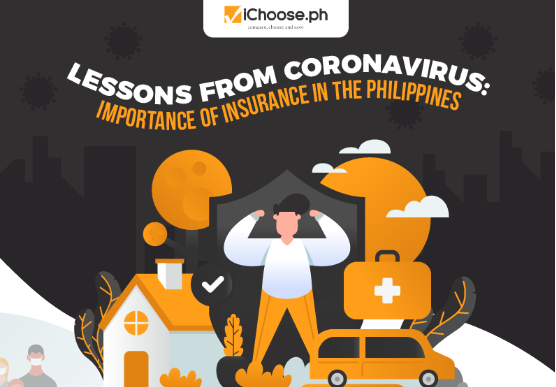 The coronavirus pandemic has affected nearly the entire world as almost 4 million individuals were infected with the virus, and around 200,000 died as a result. Many people became conscious of their health, and countless businesses were forced to close down or shift to a work-from-home setup.
Many people realized that health is indeed wealth, and they're already keeping themselves as healthy as possible to avoid contracting the disease. Electrical appliances also saw increased use during the quarantine, which meant that the electric bills likely rose significantly during this period, and increased chances of fires occurring.
Those locked down in their homes can try staying healthy by purchasing healthy food, vitamins, and medicine during their grocery runs, and there's a chance that they'll strive to stay healthy in the future. The pandemic and the community quarantines shouldn't end without the people learning anything to improve their lives for the future.

Health Insurance
The COVID-19 might be an unprecedented illness, but there are other diseases out there that can cause significant problems that may or may not be equal to that of the coronavirus. Some health insurers now offer COVID-19 coverage; PhilHealth even provides limited coverage for coronavirus patients.
Getting an adequate health insurance policy will ensure that the insured remains financially secure in case they're hospitalized. Even those with HMO coverage should consider getting health insurance since they can customize the plan according to their needs as opposed to what the company decided in the HMO.
Health insurance not only ensures that an individual won't suffer financially should they get ill from diseases not covered by HMO or PhilHealth but also let them receive lump sum cash, dividends, and other benefits. Any insurance policies that cover COVID-19 are likely worth getting, especially since it will likely remain a danger for several months, at least.
Car/Motorcycle Insurance
The pandemic kept many people indoors and virtually eliminated heavy traffic in Metro Manila except when various vehicles are stuck in long lines waiting to get past checkpoints. Drivers can still get out on their cars as long as they have quarantine passes and are buying groceries or if they're going to work as front liners and essential workers. There's also the exception that allowed people to drive and deliver relief goods and supplies for donations to several affected communities.
Despite the number of vehicles on the road going down by a significant number, car accidents still occur due to various reasons. There may still be irresponsible drivers out there, and it is far better to be prepared for them even in unlikely times than to get caught in one unexpectedly. Comprehensive car insurance policies prevent any financial damages as long as the plan covers the cause of damage to the vehicle.
Comprehensive car insurance in the Philippines covers not only car accidents, but also a liability, damages beyond accidents, and even Acts of God when customized to include them. Car owners won't have to worry about the costs when their parked cars get damaged by thieves and other troublemakers. Comprehensive motorcycle insurance is also essential for riders for the same reasons.
If accidents and damages can occur on the vehicles during the quarantine period when there are far lesser vehicles on the road, then insurance is vital even without the pandemic. The volume of traffic will more or less go back to normal during the new normal.
Home/Fire Insurance
The quarantine resulting from the desire to keep both the infection rate and the number of COVID-related casualties low meant that many people are stuck in their homes. Depending on the insurance plan's coverage, home insurance in the Philippines either can cover the damages only on the property itself or on the contents as well. There's always the chance that a disaster strikes and damages the house.
Fire insurance is also essential because the increased usage of appliances in people's homes can lead to fires. Several homes burned during the quarantine period, leaving many families homeless when they needed a place to stay in to avoid the virus.
When people can afford it, they should prioritize getting home and fire insurance in the Ph to keep themselves financially secure should their properties get damaged or burn down.
Conclusion
The novel coronavirus has severely affected the whole island of Luzon. Now, people are getting ready for the new normal as the ECQ in several areas was replaced by the GCQ or the General Community Quarantine. It's essential to stay financially protected during the pandemic since no one can afford to suffer more financial damages at this time. There's also no point in suffering financially when people are restarting their lives after the quarantine.
Both life and non-life insurance in the Philippines can make the difference between financial stability and financial ruin in these troubled times. iChoose.ph has compiled a list of the leading non-life insurance companies in the country.
To know more about insurance, visit one of the top insurance comparison websites in the Philippines, www.ichoose.ph, or contact us at 875 6677.