5 Things to Consider when Buying a Car [Infographic]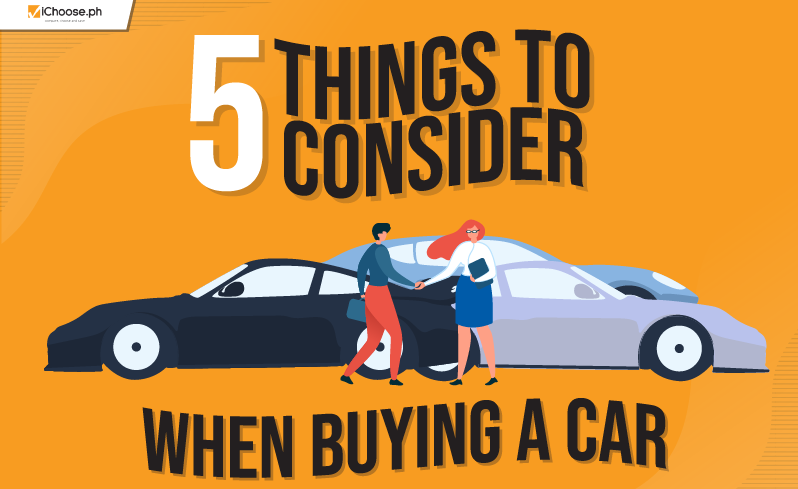 Having a driver's license could lead people to think that they should get a car real quick since the license can serve as a symbolism of freedom and independence for an individual. Some people might think that having a license without a car is senseless, which makes them want to have a ride of their own.
Choosing which car to get can be quite a challenging matter, especially if they don't have enough information on what they should get. Car lovers might have an easier time when buying a car, but even seasoned car enthusiasts might hit a snag and have trouble with buying a car.
To have a better experience when buying a car, one should consider several factors that would contribute to letting people get the best deal when purchasing cars.

Know What You Want in a Car
People can just fall in love with a car at first sight, but it's not a smart move when purchasing a car. Just because it looks good doesn't mean that it's the best in the market. It's vital that you know what you need and want before rushing a purchase.
You should consider the number of people you'd carry in your car, if you want a street, dirt road, or off-road vehicle, fuel-efficiency, drive system, the safety features you want and need, if you carry a lot, if you want a manual or an automatic setting, if you have your own garage, and several others that can be related to your preferences.
If You Want a Specific Model, Shop Around for It
When people already know what they want in a car, the chances that they already have a specific model in mind are high. If they want a particular vehicle, then they shouldn't compromise when it's finally time to buy it, even if they're having problems looking for it.
You must shop around a variety of dealers to get the right vehicle for you. If you can, ask your friends and workmates, and check the social media accounts of various car dealers to seek the model they want.
Once you finally found the model you want from one dealer, it's still better to look around for other dealers who're offering the same model to check for prices.
When you find a different model that seems to be better than the model you initially wanted, you should not compromise on the quality of the car you're getting. Stick to what you initially wanted in the model you first chose and keep yourself from buying any other car that doesn't match up with it.
Consider Your Budget
If you really can't afford the model you want, then you might want to consider getting a car that goes well with your budget. Owning a car in the Philippines is a lot easier now, especially since many carmakers are offering models that are perfect for those who have a limited budget.
Cheap cars aren't necessarily low-quality cars as several of them can give more bang for the buck when compared to more expensive models. A lot of the budget-friendly models available in the market are hatchbacks since their manufacturing costs tend to be lower since they're compact models.
People can also consider getting a second-hand car if their budget restrains them from buying a brand-new one.
Pick from an Automatic or Manual Transmission
Manual cars possess a gear system that lets drivers operate the car themselves by moving the gear stick and pressing down the clutch pedal. Manual cars may seem to be a lot of work for people, making people consider getting an automatic car instead.
The differences between an automatic transmission car from a manual one are the following:
Automatic Transmission
More comfortable to drive than manual cars
Smoother than manual transmission
Better to use in rush-hour traffic
More expensive to than manual cars
Boring for experienced manual drivers
Manual Transmission
Greater control over the car
More speed thanks to manual control on acceleration
Cheaper to maintain than automatic cars
Commonly regarded as unsafe
Drivers are prone to leg ache
Get a Car Insurance
The government already mandates that car owners get the Compulsory Third Party Liability (CTPL) before they can register their cars In the Land Transportation Office (LTO), but car owners should also consider getting a Comprehensive Car Insurance for the vehicle they just bought.
Getting car insurance would protect your car especially since it is the best car feature anyone can have. Having insurance can help you financially in case you get involved in a car accident, while also letting you become entitled compensations should any unexpected events like car theft, fire, and others occur.
Conclusion
Simply purchasing a car due to its looks and your preferences without doing detailed research on what to really get can be a mistake, especially if you're not exactly knowledgeable on cars. Salespersons can take advantage of your insufficient knowledge of cars and try to outsmart you.
Some salesmen might also try to force you to get car insurance regardless if you want to or not, besides the government-mandated one. Not having the choice to pick your insurance provider can keep you from getting the most beneficial plan for you.
To know more about car insurance, visit our website at www.ichoose.ph or contact us at 875 6677.