Do You Still Need To Get Insurance For Second Hand Cars? [Infographic]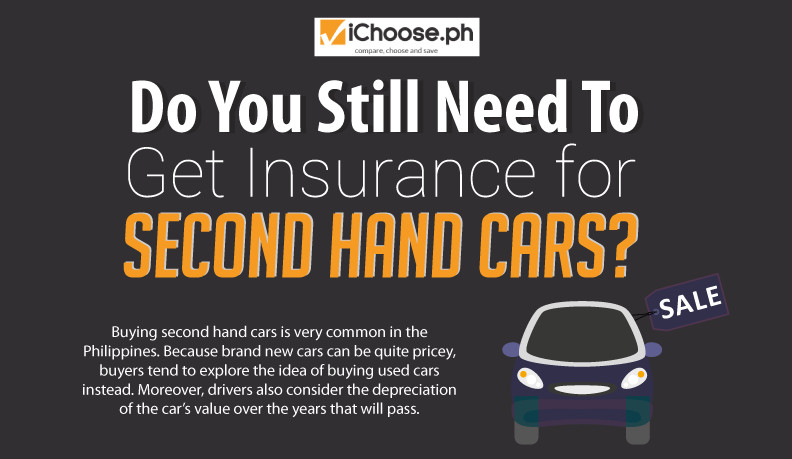 Buying second-hand cars are very common in the Philippines. Because brand new cars can be quite pricey, buyers tend to explore the idea of buying used cars instead. Moreover, drivers also consider the depreciation of the car's value over the years that will pass.
Buying a used car can be a minefield. You can either get it right or end up with a mobile scrap. Cars can be overwhelming, especially if you're thinking about buying your first car. The trick to buying any previously owned car is to know what you're getting. More than that, you should also think about getting insurance for it? Do second-hand car owners even need to?
Of course, more than brand new ones, second-hand cars are more vulnerable to be involved in a road accident because of the following factors.
Age of the vehicle
Wear and tear is always a factor to consider. For instance, the average car in the Philippines runs around 10,000 kilometers annually.
Condition of the vehicle
Car insurance wasn't made in order for you to have a discount on repairs. It is imperative that a car has to be in running condition before it gets covered by insurance companies. This is also part of the reason why older cars are not really covered by car insurance companies.
Cost of repairs
If the cost of the repairs will be more than the cost of the car if sold in the market, then most likely it is not going to be covered by an insurance company.  It makes no sense to repair something that doesn't cost anything. If this is the case, you'll never find affordable car insurance for your vehicle.
Why do second-hand cars need insurance?
Driver and Passenger Safety
Regardless of the condition of your car—new or used, it needs protection from unforeseen events like road accidents. Moreover, you as its owner and driver needs that protection too!
Insurance provides the protection you can get for your vehicle. Basically, it is an assurance that will protect you as the owner from potentially suffering financial ruin should you be involved in an accident or should you be responsible for causing an accident and damaging other people's property.
It offers protection against damage to your vehicle caused by accidents on the road as well as results of incidents that are unrelated to the road. It will also cover you for incidents such as damage to your car, theft, legal liability, third-party cover, and accidental death or injuries of third parties.
Minimal repair costs
If ever you have been involved in a collision, used cars tend to get damaged more because of its wear and tear. Having insurance lets you have someone accountable to help you in fixing damages caused by any accidents. If you don't have insurance, chances are, your car will only end up at the junkyard because the price of getting it fixed is higher than buying a new (second hand) one.
As a rule of thumb, you want to look at the worst-case scenarios that you could experience while driving in the Philippines. Finding the right affordable car insurance can already be challenging; however, getting an older car insured can be a bigger challenge. It is highly suggested to purchase a car that is somewhat within the 10-year limit.
This gives you more options as you try to look for the right company. Taking a mechanic with you to give you an idea about the condition of the car could make a huge difference. Also, asking the car insurance companies prior to purchasing the car could give you an idea of which of the cars in the market makes the most sense for you.