Best Gifts to Give Your Car Lover Boyfriend [Infographic]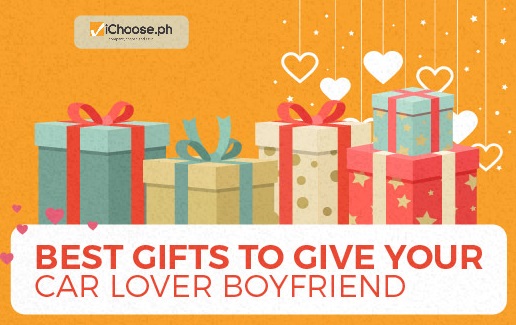 It's well-known that a lot of guys are natural car lovers and the holidays are the perfect time to give your boyfriend something special to match their enthusiasm for beautiful cars. Many people might try to save up to get a new vehicle for themselves or at least get a second-hand one. However, not everyone can afford to get a car for the holidays to replace their old one, but there are still ways to get your boyfriend something to fuel his enthusiasm for cars.

A Die-Cast Model Car
Buying or building a car can be expensive, especially when people don't have the necessary budget for it. A suitable alternative to a real car is a die-cast model car that he likes. Your car lover boyfriend may have his sights on a particular vehicle to drive someday, but a model car is suitable enough to motivate him further to get it eventually.
Your boyfriend will be able to assemble the car that they like and display it in their homes or garage afterward.
A Personalized Leather Keychain
Your man will likely be putting a lot of attention to detail when it comes to his car and his accessories, including his keychain. He might be content with his generic keychain for now, but receiving a personalized one from the girl of his life will surely uplift his spirits as he feels valued to have a keychain fit for him.
A Reliable Jump Starter
Anyone can have trouble with their car's battery from time to time, and one can say that a natural car lover will know a thing or two about their rides. Having only jumper cables won't do the driver any good when he's all alone on the road, but having a portable jump starter eliminates the necessity of having another car to help jump-start his ride.
A car enthusiast can't be found wanting when it comes to getting his car back on the road, especially if he's your special guy.
A Good Tool Kit
Many guys might just throw their assortment of tools in their trunks because they lack a kit to store their tools properly in. A kit can help your man organize his tools properly so he won't have to rummage around his random collection of tools to get the right tool for the job at hand.
A car enthusiast will need a tool kit sufficiently equipped with screwdrivers, wrenches, pliers, wire dykes, pocket knives, and others. Giving your guy a toolkit as a gift will provide him with the confidence to work on his car himself without having to rely on a mechanic for the task.
Cleaning Kits
No car enthusiast in his right mind will leave his car in a poor and filthy state, but it can happen when he isn't sufficiently equipped with the right equipment. Washing and detailing the vehicle is one of the essential tasks a driver must perform to maintain the car in top condition. Relying on car washing services can be harmful to the vehicle since it can damage the protective layers of wax and sensitive paint on the car.
A car cleaning kit equipped with the necessary cleaning solutions, including washing mitts, brushes, and others required to wax and shine the vehicle's paint, clean the seats, and gloss the wheels.
A High-Quality Dash Camera
Accidents can happen to anyone, even to your car lover boyfriend, and giving them a dash camera as a gift can help them significantly when claiming insurance and determining who was at fault. Your man might not be fond of capturing many memories on the road, but at least you'll also be able to use it for such purpose when riding in his car.
The Right Car Insurance for Your Boyfriend
As stated above, a dash camera can help a driver with making insurance claims, but he'll first need to have the right insurance for his car. The appropriate insurance plan will match the driver's needs and cover the damages sufficiently without having to shoulder any high costs.
It can be challenging to determine which insurance is the right one for your man, but trusting in a reliable car insurance comparison site will help you get the plan you need.
To know more about car insurance, visit our website at ichoose.ph.