Coping Strategies to Improve Mental Health (During the Pandemic) [Infographic]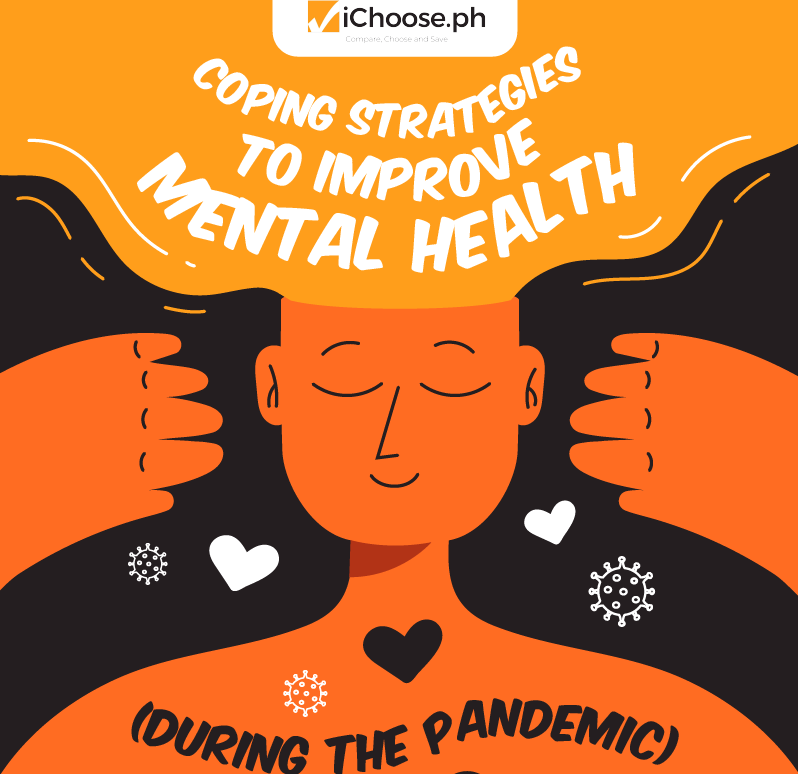 The coronavirus pandemic has brought many changes to everyone's life, resulting in people having altered daily routines, experiencing social isolation, and feeling the situation's financial pressure. Accordingly, the increase in the number of COVID-19 positive cases in the Philippines and the continuing imposition of lockdowns and community quarantine has become stressful.
According to the National Center for Mental Health (NCMH), there has been an increase in Filipinos facing mental health problems due to the pandemic. The center has received 953 calls, an average of 30 to 35 calls daily, from March to May 2020, during the enhanced community quarantine implementation.
Merely relying on a list of dos and don'ts during the coronavirus pandemic can only do enough in lessening the ongoing fear of being infected or dying from the virus. Employing coping strategies can help improve your mental health and reduce the anxiety you are feeling amid the health crisis the world is currently facing.

Take Care of Yourself
Worrying about the spread of the virus might seem reasonable today, but you should not forget to maintain your health during the pandemic. Being mindful about your physical health and maintaining a sense of normality and routine reduces stress, strengthens your immune system, and improves your body's response to viruses and illnesses.
Here are some ways to improve your physical health:
Get enough sleep.
Participate in regular physical activity and exercise.
Eat a balanced diet.
Take a break from your electronic devices from time to time.
Take Care of Your Mind
Hearing news about the pandemic repeatedly can be discouraging and upsetting, particularly when you are stuck at home and in quarantine. Although news reports can help disseminate precautions about the virus and ways to prevent contracting or spreading it, too much consumption of information about the outbreak can be detrimental to your mental health. Dwelling in the cycle of negative thoughts can trigger stress, anxiety, and depression.
As people are experiencing too much stress about the current situation the world is in, they must maintain their emotional well-being. Taking care of your mind can help you manage your thoughts and feelings, make you feel more in control, and allow you to think clearly and react appropriately when a problem occurs.
Find New Ways to Connect with Others
Many Filipinos like to maintain a sense of belongingness by engaging and meeting with their friends and families. Gathering with others also allows them to build support and strengthens relationships. However, face-to-face communication with others has been limited as many countries, including the Philippines, have implemented lockdowns and community quarantines to contain the virus's spread.
In this digital era, it is easy to find new ways to connect with your loved ones. Telecommunication platforms are conveniently accessible for you to communicate with others to talk about your concerns and what you feel about the current situation.
Conclusion 
The fear and anxiety about the disease and its severity when contracted can be overwhelming for everyone. And the continuous implementation of public health actions, such as the quarantine measures and social distancing, can also increase the stress and anxiety in people as it makes them feel more isolated and lonelier.
Mental health problems, such as anxiety and depression, do not often go away on their own; you must deal with it. Although coping with stress and mental health problems is different for everyone, the best way to face the symptoms of these problems is to ask for help and be upfront about how you are doing.
Another way to lessen the stress amid the coronavirus pandemic is securing your health through buying health insurance Philippines. A health insurance policy plays an essential role in providing financial relief to you and your beneficiaries in case of untimely sickness or demise.
Different health insurance companies offer various types of insurance policies. Some may go beyond paying for physical examinations, preventive care, and laboratory tests, providing mental health, rehabilitation, and hospitalization benefits as well.
Looking through comparison website insurance Philippines can help you select the best health insurance option for you. Visit our website at iChoose.ph to see the ideal coverage plan for your health and financial protection.