Lessons from Coronavirus: How to Maintain Your Health [Infographic]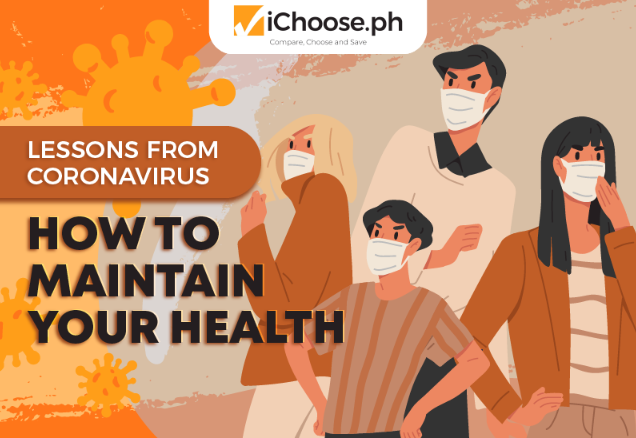 The number of COVID-19-positive individuals in the Philippines has increased during the quarantine periods, and many people may have been discouraged as they see the latest news updates. It might seem reasonable for people to worry today, but they shouldn't forget to maintain their health amidst the pandemic. Staying healthy is essential to fight off not only the coronavirus but also other common illnesses that people can get.
Some might find it better to have a less severe illness than the coronavirus, but it's far better for people not to have any diseases. Filipinos must know how they can keep themselves healthy during the pandemic. It's also essential to follow the dos and don'ts to prepare for the coronavirus to keep themselves secure from the disease.
Health insurance comparison Philippines can help Filipinos secure themselves further after following the advice written below to stay healthy during the pandemic.

Eat a Balanced Diet
While the COVID-19 pandemic may be stressful, it shouldn't be an excuse for people to let themselves go with "emotional eating." Eating plenty of junk food may help people cope with their current stress, but it'll negatively affect their health.
People must still have a healthy and balanced diet during the pandemic to maintain their health. It's advisable to have fruits and vegetables in their meals for their vitamins, fiber, and minerals. Nutritious foods are far better than fast food or processed snacks, so people should eat more of them from today. Those who can cook should also prepare simple and healthy recipes for the family members to eat.
Taking vitamins is also helpful, especially since it can help improve an individual's immune system.
Once the coronavirus pandemic is over, people shouldn't readily forget living healthily since it's vital to ensure that they won't get sick anytime soon.
Exercise
Many people were active in the gym before the lockdown, but now their fitness plans seemingly came to an end when they were forcibly stuck in their homes. Many people stopped exercising during the midst of the pandemic because they didn't have both the necessary space and equipment for their usual routine.
It's essential to look for new ways to exercise to keep the blood flowing and nourish the body. Exercising also helps reduce anxiety and depression o that Filipinos can have a relatively more comfortable time weathering the pandemic.
Yoga or pilates are excellent indoor exercises, and people should look to take online classes if they can. Indoor workouts that don't require any equipment are also excellent to help someone stay fit.
When the gyms reopen and the quarantine periods end, it's advisable to either continue their usual indoor routine or start going to the gym. Getting buff is not necessarily the objective since having a healthy body is good enough to improve one's wellbeing. Staying fit at all times is essential to be safe from diseases.
Take Breaks to Reduce Stress
Regardless if someone is working from home, taking online classes, binge-watching TV, or anything else, it's vital to take a break from time to time. Since most of the activities mentioned above involve sitting down for long periods, the breaks should include stretching to relieve tension and overall stress.
Taking a break from technology and going out for a walk, if possible, is good for the body since it can effectively reduce stress. If walking isn't possible, then meditating or reading a good book are excellent alternatives.
Having some time for yourself besides the usual lunch break is a must to give your mind some time to rest. Looking out the window or at a soothing image is undoubtedly an excellent way to relax.
Wash Hands Properly
Among the most repeated messages conveyed to people worldwide is to wash their hands to prevent the germs from spreading. People can fight the coronavirus and keep themselves healthy by washing their hands properly so that they don't spread it or get infected themselves.
People should wash their hands for at least 20 seconds by lathering them with soap and water. Scrub the hands from the back to the front, between the fingers, around the cuticles, and under the nails. Singing the ABC song once or the Happy Birthday song twice is enough time for handwashing.
Conclusion
After making sure that they're healthy, people should consider comparing health insurance plans to prepare for the new normal to protect themselves further should they get ill. Health insurance Philippines can help secure a Filipino's finances if they get sick as the plan covers their medical bills.
Start comparing health insurance policies now to get an affordable plan tailored for you. To learn more about health insurance, visit our website at www.ichoose.ph or contact us at 875 6677.