Preparing for Coronavirus: Dos and Don'ts [INFOGRAPHIC]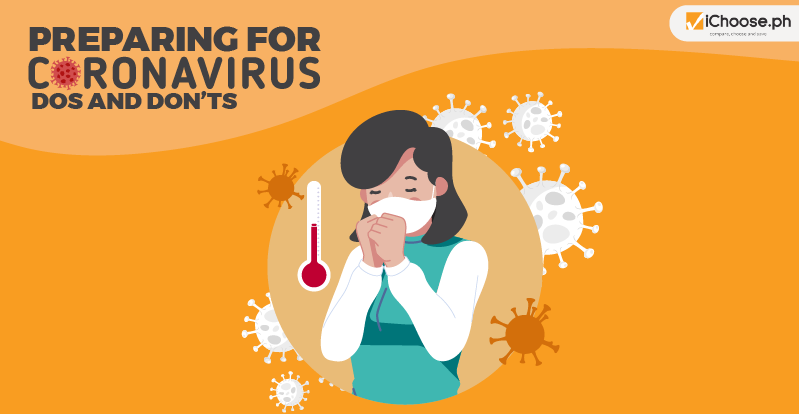 The first case of the novel coronavirus or COVID-19 in the Philippines was reported on January 30, 2020, and is of a 38-year old woman from Wuhan. The first death was also reported in the Philippines days after the case was confirmed. Right now, the localized transmission of the virus is confirmed as more and more Filipinos are confirmed to be infected.
The increasing number of Filipinos infected with COVID-19 contributes to the growing unease among the people that led to the people panicking.
Many people are now panic buying for alcohol, toilet paper, and other necessities as they try to "prepare" for the virus. Right now, there's a shortage of various supplies, including surgical masks and alcohol as people hoard them for themselves or to resell them at a higher price.

Filipinos are now panicking, but should they be taking such measures to prepare for the virus? Below is a list of dos and don'ts to prepare for the Coronavirus pandemic.
Dos
Get a pair of hand gloves to minimize contact with surfaces.
Carry and use agents containing 70% alcohol for hygiene purposes.
Learn the symptoms. COVID-19's symptoms are similar to that of flu, including fever, cough, and shortness of breath.
Take extra precautions if you're either over 60 years old or already have a condition since you will have a higher risk of contracting the disease. It's best to stay away from public places in the meantime.
Stock ample supplies of prescription medications for those who need it. Stock over-the-counter medicine and disinfectants to clean household surfaces.
Follow the guidelines regarding the Luzon-wide enhanced community quarantine and other local guidelines for those who are in Visayas and Mindanao.
Don'ts
Go to overcrowded places like shopping centers.
Touch doorknobs, staircase rails, and other surfaces if there is a confirmed coronavirus case in your community.
Touch your eyes, nose, and mouth. Touching your face after coming into contact with the virus can help it enter one's body.
Wear a mask unless you're sick since it's meant to keep others from contracting YOUR disease. There's also a growing demand for face masks, and there are now shortages worldwide. Leave the masks alone for the sick and health care professionals who need them (unless stated otherwise by community guidelines).
Panic, especially panic buying. People should stay calm and take precautions by purchasing disinfectants with 70% alcohol and wash their hands. Panic buying will also just keep the people who need the items from securing themselves.
There is still no need for panic in case you get infected, especially since, as of March 12, 2020, the worldwide recovery rate is higher with 68,657 cases than that of the death rate with 4,749 cases. If you suspect yourself of being infected, follow these dos and don'ts.
Dos
Seek help if you have a fever, cough and a difficulty of breathing. Contact the doctors first to know any protocols regarding the coronavirus to reduce the chances of potentially infecting others with the disease.
Cough or sneeze only on a piece of tissue paper and dispose of it quickly. If you do not have any tissue papers, then only cough or sneeze into the crook of your elbow.
Wear a mask properly to keep yourself from potentially infecting other people of the virus.
Don'ts
Go out leisurely. If you are going to see your doctor, make sure to call first. Avoid public transportation, taxis, and ride-sharing services as much as possible.
Hang out with family members and friends to keep them from contracting the disease. Keep a distance, a meter at least, from other people at all times. There's also a chance that pets can get infected, especially since there's already a report of a dog in Hong Kong testing positive for the virus.
The COVID-19 may be making the news these days, especially since the number of infected Filipinos seems to be growing, but there's no need for people to panic. More and more people worldwide are getting cured, and scientists already know what the virus is.
Everyone must stay calm to weather this season.