Everything You Have to Know About Health Maintenance Organizations [Infographic]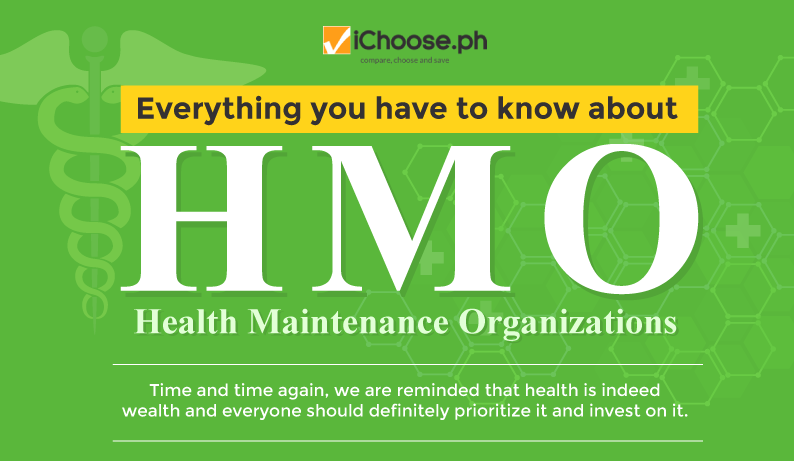 Time and time again, we are reminded that health is indeed wealth and everyone should definitely prioritize it and invest on it. However, due to stress and other factors, many people tend not to focus on it and shove it to the bottom of their main concern. Majority would be guilty of not owning a health insurance for their own—which many experts say that is one huge mistake.
There are two types of private health insurance in the Philippines: Health Maintenance Organizations (HMO) and health insurance policies.  While they both have the same end goal, they deliver their services contrastingly. Each has their own share of benefits, but they work differently depending on your situation.
Health insurances are reliable safety nets in the event of expensive medical bills. However, can basic wage earners really pay up for this when it could easily eat up a huge portion of an average Filipino's monthly income. Studies have proven that this is one of the main reasons why an average Filipino employee just settle for what's the most affordable rather than what they really need.

What is HMO?
HMO or Health Maintenance Organizations are healthcare delivery systems that most employees are entitled to use as part of the benefit they receive from their employers. HMOs enable individuals to receive a wide range of medical help and aid for a fraction of a price since it's subsidized by their employers.
These organizations are private providers of healthcare insurance that give you access to doctors within their network. They offer plans that are usually comprehensive and customizable but are only limited to a certain amount annually. The bigger the premium the employer or individual is paying, the higher the annual allowance.
HMOs administer programs such as:
inpatient/outpatient services
surgeries
other ancillary services such as laboratory tests and medication
How Does HMO Work?
An HMO gives members access to its network of healthcare providers like doctors, dentists, hospitals, and clinics through prepaid health products for a monthly, quarterly, semi-annual, or annual fee, depending on the plan you will choose to avail.
Why is HMO important for your employees and your company?
Employees who are part of an HMO plan through their employers can save a lot of money in the long run and allocate part of their salary for their health needs. Since most medical procedures, emergency assistance, and even confinement are covered, it means more savings for employees who don't have to take out hefty fees from their own pockets.
How to choose which HMO provider to choose?
To date, there are 16 HMOs in the country, which includes MEDICard, Intellicare, MaxiCare, Philcare, Insularcare, Valucare, and Fortunecare, just to name a few. These HMOs typically cover both outpatient and inpatient procedures for patients as well as any emergency treatments employees may need medically, given that these medical assistances should be delivered by recognized and authorized doctors, clinics, or hospitals.
There are several factors to take into account when choosing whether an HMO plan is the right option for you and your family. Some key things to consider are:
Cost of monthly premiums
Out of pocket costs
Choosing your own healthcare providers
The current health of the people you want to cover
Having a health insurance plan helps pay for some of those unexpected costs, and provides financial protection against ongoing large medical bills. At the same time, it guarantees one thing that can never be tantamount to saving a lot of money: health and the peace of mind for you and your family.
SOURCES: