Why You Need to Get Health Insurance When You Already Have HMO [Infographic]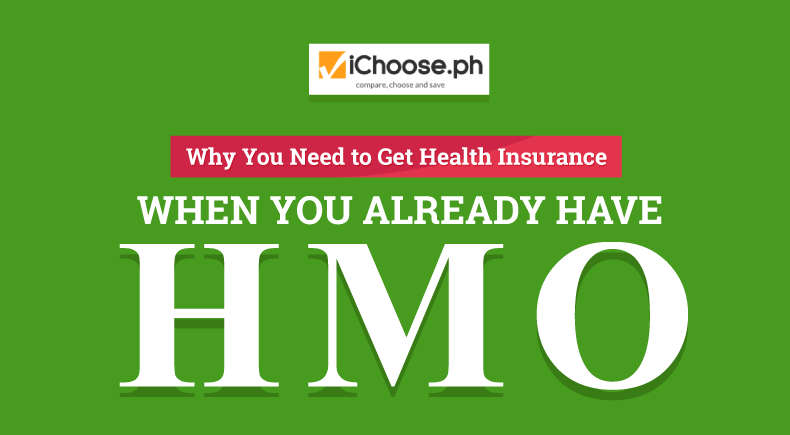 Securing one's health is essential as it allows an individual to work and enjoy life to the fullest. Should anyone suffer from illnesses and get hospitalized, they're bound to exhaust their finances with various medical bills.
Companies can provide some measure of protection with health maintenance organizations or HMO benefits to their employees, and others can rely on Philippine Health Insurance Corporation or PhilHealth. Private companies can offer HMO benefits either by paying for their employees' premium in whole or by subsidizing their payments while PhilHealth can provide some measure of medical coverage.
A regular employee can benefit from both PhilHealth and HMO, but it goes into question whether or not they're sufficient to cover critical illnesses. Read on to know why you need to get health insurance even when you're already covered by either HMO or PhilHealth.

HMO and Philhealth Coverage May Not be Able to Cover the Treatment of Critical Illnesses
Health care plans have critical illness benefits, but what they cover varies. HMO benefits cease once you've reached the maximum limit of the yearly plan you have. PhilHealth, on the other hand, covers some selected critical diseases.
Getting health insurance is a good investment since you can select a specific plan that can cover your needs as opposed to both PhilHealth and HMO. Having the ability to choose assures you that your treatment of a critical illness is covered.
Health Insurance Gives Lump Sum Cash
Getting critically ill can exhaust your finances but having an insurance plan besides either HMO or PhilHealth can ensure that you save money when you receive lump sum cash if you're diagnosed with a major disease covered by your insurance plan.
You Lose HMO Coverage when You Leave Your Company
Getting insured through HMO may seem convenient since you won't have to worry about paying anything, but it all ends once you're no longer part of your company. Should you resign or be terminated, you will have to surrender your HMO card, leaving you uninsured. Your HMO coverage will also cease once you exceed your age coverage policies, which is around the age of 65.
Having health insurance, however, lets you be covered up until you reach 75 years old.
Health Insurance Provides More Benefits Both for You And Your Family
You can use your HMO to pay for your consultations with a physician or hospitalization, but its benefits are lacking compared to health insurances. Health insurance, however, provides the following additional benefits:
Cash Benefit
Getting health insured lets you receive a specific amount of cash benefit for every day that you fail to earn an income because of your hospitalization. This results in receiving continuous financial support for you and your family.
Dividends
Some health insurance companies let you receive and withdraw dividends from the amount you paid for a given year if you didn't make any claims. There are also times when you can get endowment funds, which result in getting back your money at the end of your insurance policy's term as long as you have not exceeded the cash benefits you're entitled to.
Life insurance
Should you die unexpectedly, some health insurance companies offer life insurance benefits. The additional benefit ensures that your family receives protection from financial ruin should you die.
Customizable Health Insurance Packages
You won't be able to customize the HMO healthcare package your company will provide you since it will be dependent on what plan your company signed up for. The result is that the employees will receive the same insurance benefits as the other employees.
Because not everyone has the same needs, it isn't wise to rely heavily on a company's HMO. Getting health insurance lets you control what areas you'll be covered with, resulting in acceptable coverage and lessening the chances of underinsurance. You can select your coverage and inclusions while basing it on your financial status, health goals, health needs, and life situation.
HMOs are essential, but trusting in them too much without having a personalized insurance plan can leave you underinsured, resulting in expenses that can exhaust an employee's finances.
If you want to learn more on health insurances, and other insurances, for your financial security, visit our website at www.ichoose.ph or contact us at 875 6677.
Source:
https://www.bpi-philam.com/en/bancassurance/finance-and-insurance/5-reasons-your-companys-hmo-is-not-enough-to-feel-secured.html