Why a Travel Insurance is Vital for Christmas [Infographic]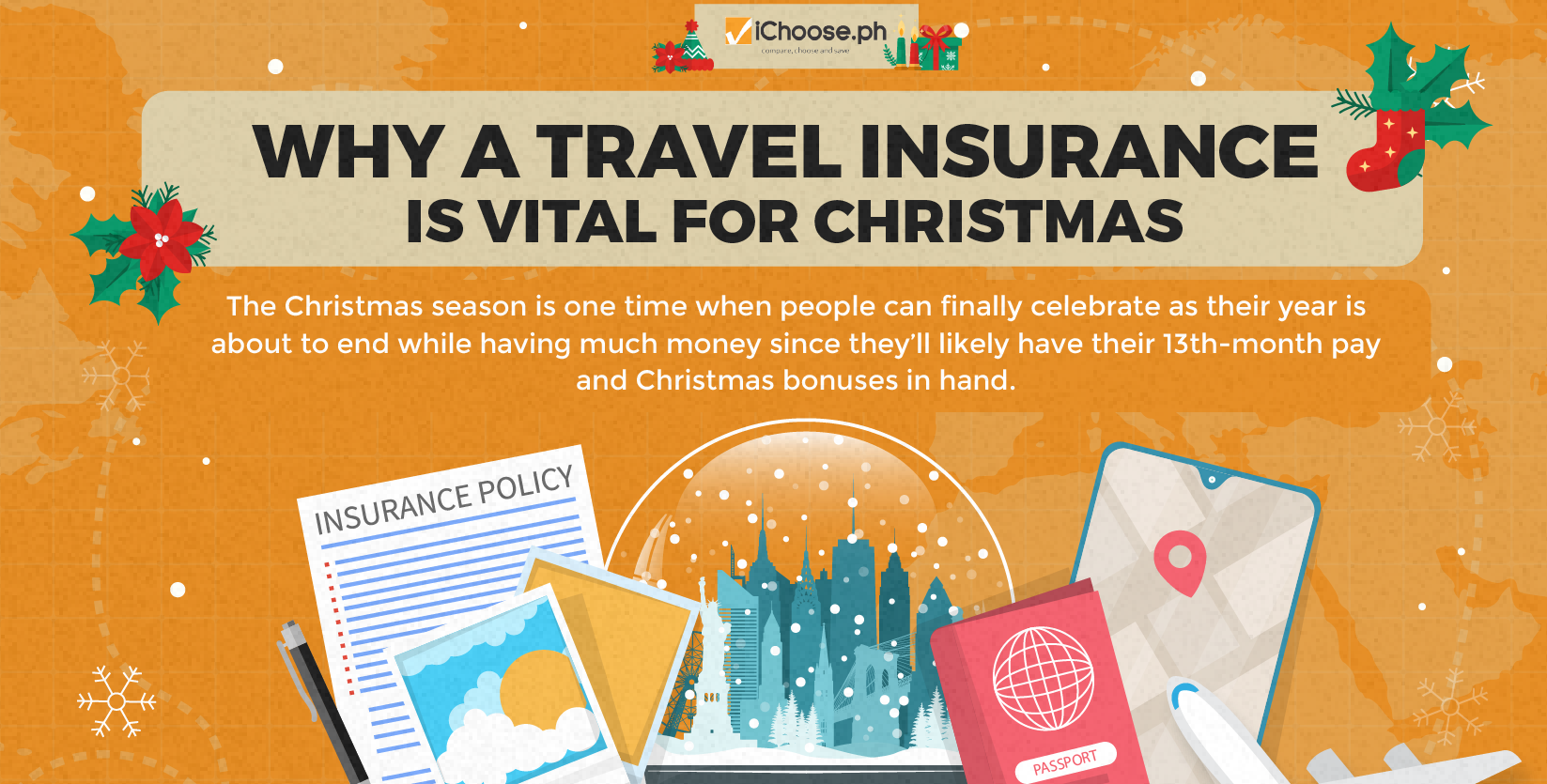 The Christmas season is one time when people can finally celebrate as their year is about to end while having much money since they'll likely have their 13th-month pay and Christmas bonuses in hand. Some people might opt to stay at home and celebrate with their families, but others might take this time to go out for a road trip, go to their provinces or go abroad.
Travelling has its share of risks that people could face on the trip, and it's wise to get insured before going somewhere far, as it essentially protects the traveler from incurring any costs from whatever they're covered with.
Read on as we detail why you'll need travel insurance for Christmas.

Medical and Emergency Expenses
Nobody knows what can happen during a trip, and it's best to be prepared for the worse when it happens. Getting travel insured can give you the medical coverage you'll need to pay for your medical bills in case of emergencies.
Your body might adjust as you go to another country to celebrate Christmas, and you'll never know if you'll get sick as a result. It's best to be prepared for any illnesses with a comprehensive travel insurance plan that has a high coverage limit to ensure that you'll be covered during the trip.
You'll also never know when any disaster might strike while you're traveling, which is why getting travel insurance that covers emergency evacuation and care is vital for the trip. Should natural disasters like earthquakes or storms occur, you can rest assured that you won't have to shell out significant amounts of money paying for accommodations and medical bills.
Getting just about any insurance plan without considering the amount of premium and reading the inclusions and exclusions of the policy can result in you not getting covered for what you need and having to spend money for your medical costs.
Personal Liability
In your excitement on your trip, you might accidentally injure someone in an accident as you enjoy your time. Getting travel insurance that provides personal liability coverage in case people make an insurance claim against you can keep you from suffering financially in any case.
Personal Belongings
In case your personal effects get lost, stolen, or damaged during your Christmas trip, you might end up having to spend a large amount of money trying to replace or repair your belongings or not being able to replace them at all. Getting travel insured can cover you for the items, allowing you to be reimbursed for your expenses if the airline, the hotel, or a thief cause you to lose your belongings.
Flight Cancellations and Delays
You and your family might be extremely excited to go abroad and enjoy yourselves on your Christmas trip, but you'll never know if something unexpected occurs that will result in you canceling your long-awaited trip. Someone in your family might have gotten sick, you might have to go home suddenly, or others, and these circumstances usually lead to trip cancellations.
There are also times when you might experience flight delays due to various circumstances, and these delays can lead to additional accommodation, meal, and transportation costs.
Getting travel insured with sufficient coverage for flight cancellations and delays can keep you from losing large amounts of money due to unforeseen circumstances affecting your trip.
Getting insured isn't the end, however, since you'll still need to be able to make a successful travel insurance claim in the end if you ever need it. Your Christmas trip must be enjoyable since you can only do it once a year, especially with the money you have at hand at that time, and you can help secure yourself with the right travel insurance policy.
If you want to know more about the benefits of having travel insurance or you need to get insured, then visit our website at www.ichoose.ph or contact us at 875 66 77.