Most Romantic Destinations for Valentine's Day [INFOGRAPHIC]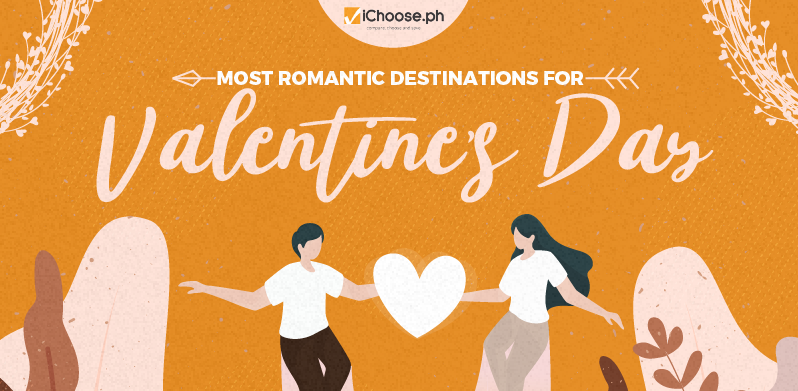 Valentine's Day only happens once a year, and people should consider making it an exceptional day, especially since it's a day that celebrates romantic love. Couples might have a hard time managing their time due to their married life, but they shouldn't let it get in the way of their celebration.
Couples can get ready for their road trip and visit some of the most romantic places there are in the Philippines. The country has a lot of beautiful locations that will serve as excellent romantic travel destinations.

Intramuros
There will never be a dull moment with Intramuros for a couple since the famous walled city has a lot to offer for two lovebirds. Intramuros has the Rizal shrine, the National Commission for Culture and the Arts Gallery, and the Fr. George J. Willmann S.J. Museum and all of them have no admission fees. Even though the other attractions in the walled city charge admission fees, they're still relatively cheap.
Couples can date either by visiting such attractions or by riding the kalesa as they enjoy the sights. There are also many different restaurants and food stalls where a couple can rest and enjoy some time together while eating a meal.
Those who can't afford to leave Manila due to their busy schedules will have a great time in Intramuros, especially if they're into photography since there are numerous areas where one will surely get an Instagram-worthy photo.
Vigan
Intramuros will not be able to compare with Vigan City when it comes to achieving the look of a European city, especially since it's recognized as the"best-preserved example of a planned Spanish colonial town in Asia." Vigan is also a UNESCO-listed heritage city and one of the New7Wonders Cities.
CalleCrisologo has a lot to offer for tourists with its multitude of antique shops, souvenir stores, and restaurants. Besides what ordinary tourists can enjoy, a couple can also have a date at the Syquia Mansion Museum or do pottery at the RG Jaw Factory.
Couples can fully have a romantic date when they either walk down Calle Crisologo during the early evening or ride a horse-drawn carriage around the town.
Batanes Islands
Batanes is one romantic travel destination that's undoubtedly unlike any other since it's both an archipelagic province and the least populated province in the Philippines. Due to how special Batanes can be, the province is fast becoming one of the top travel destinations in the country.
Couples can visit one of the three impressive lighthouses in the Philippine, which are the Basco, Tayid, and Sabtang lighthouses. The Basco lighthouse is the most impressive of the three, mainly since it also serves as a church in the province.
If lighthouses aren't a couple's thing, then they might enjoy some time in the gorgeous beaches of Batanes.
The archipelagic province is also great as a "pre-nuptial photo backdrop" thanks to its captivating sceneries that even boyfriends and girlfriends will enjoy. Some of the beautiful views in Batanes include the top of mountain valleys that overlook the coast of Batanes Island.
Boracay Island
Once upon a time, Boracay Island has been one of the top travel destinations for families and couples until it was then closed down for six months to bring it back to its former beauty. It's open once more these days, and couples can now enjoy the beauty of the island and its white sands once more.
To keep the island from getting dirty once more, the local government set up a limit on how many people can visit the island as part of its new rules. Anyone lucky enough to get a flight and accommodation will surely have a great and romantic Valentine's Day as there are many different secluded beaches there like Balinghai Beach and Puka Beach.
There are also more activities available in Boracay, like sailing on a paraw or relaxing in a spa.
Baguio City
If a couple wants to try something different from the usual sweet Valentine's Day celebrations that many couples are already doing, then they might want to try exploring the Old Diplomat Hotel in Baguio. Baguio's known for its chilly cuddle weather and mixing this up with the scary experience of traveling around a haunted hotel will truly make things more exciting for the two.
Of course, the usual Valentine's Day activities are still present in Baguio as the lovebirds can stroll around and lounge at the many restaurants and cafes in the area, as well as appreciate the many unique artworks present in Baguio. One restaurant that two lovers will enjoy thanks to its selection of Greek food and Instagrammable corners is the Lemon and Olives Greek Taverna, which is an old house that's converted to a restaurant.
Wherever you want to go to for your Valentine's date, you'll need to stay prepared for anything, and one way to do so is by getting the right car insurance before going on a long road trip. Visit our website at ichoose.ph to know more about how to get the right insurance plan for you.