iChoose.ph Announcement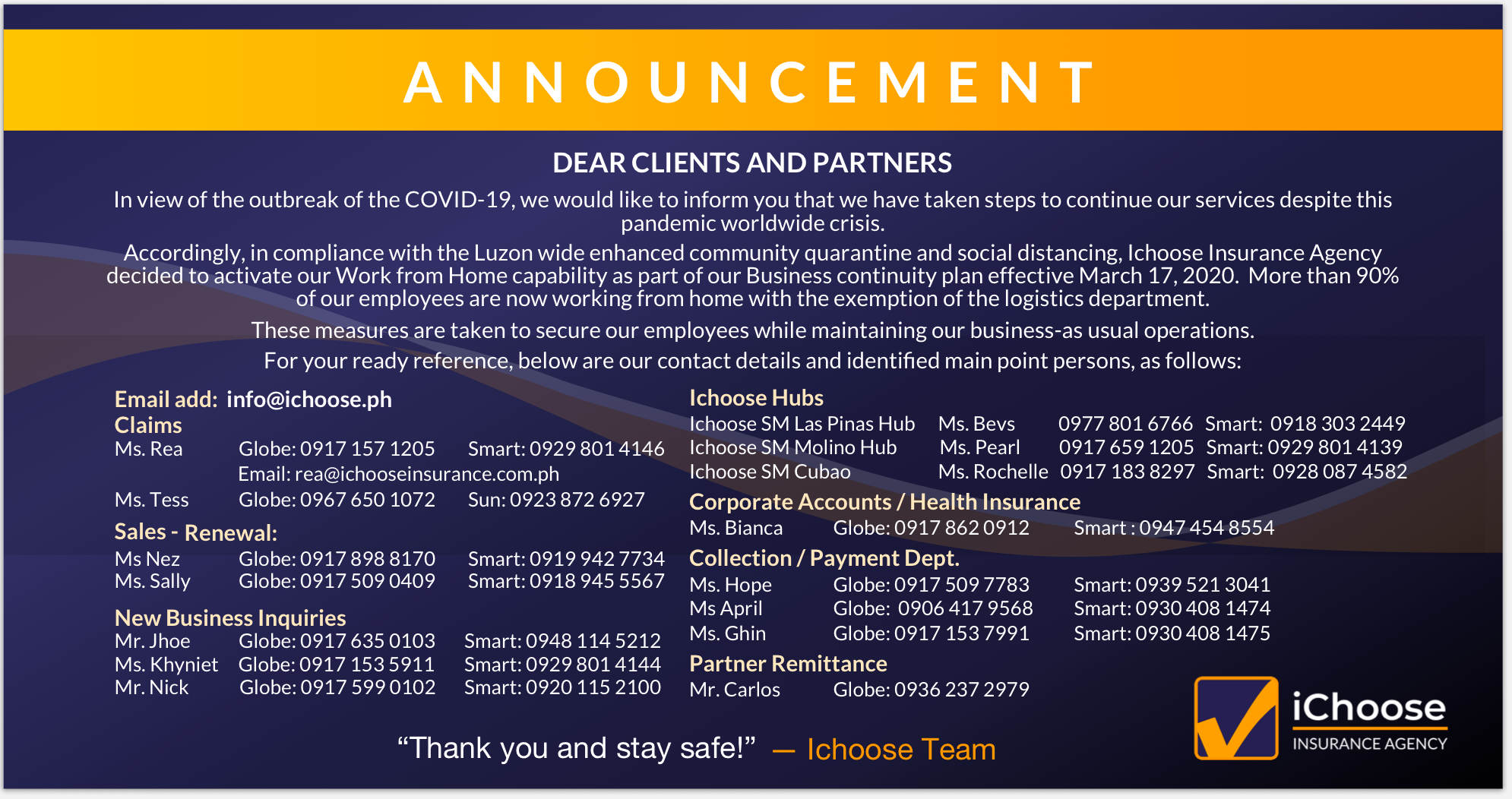 Dear Clients and Partners, In view of the outbreak of the COVID-19, we would like to inform you that we have taken steps to continue our services despite this pandemic worldwide crisis. Accordingly, in compliance with the Luzon wide enhanced community quarantine and social distancing, Ichoose Insurance Agency decided to activate our Work from Home capability as part of our Business continuity plan effective March 17, 2020. More than 90% of our employees are now working from home with the exemption of the logistics department. These measures are taken to secure our employees while maintaining our business-as usual operations. For your ready reference, below are our contact details and identified main point persons, as follows:
Email add: info@ichoose.ph
Claims: Ms. Rea – Globe: 09171571205 Smart: 09298014146 Email: rea@ichooseinsurance.com.ph Ms. Tess – Globe: 09676501072 Sun: 09238726927
Sales Team Renewal : Ms Nez – Globe: 09178988170 Smart: 09199427734 : Ms. Sally – Globe: 09175090409 Smart: 09189455567
Ichoose Hubs
Ichoose SM Las Pinas Hub – Ms. Bevs – 09778016766 smart: 09183032449
Ichoose SM Molino Hub – Ms. Pearl – 09176591205 smart: 09298014139
Ichoose SM Cubao – Ms. Rochelle Globe: 09171838297 smart: 09280874582
Corporate Accounts / Health Insurance- Ms. Bianca – Globe: 09178620912 Smart : 09474548554
New Business Inquiries- Mr. Jhoe – Globe:09176350103 Smart: 09481145212 Ms. Khyniet Globe: 09171535911 Smart: 09298014144 Mr. Nick – Globe:09175990102 Smart 09201152100
Collection / Payment Dept.- Ms. Hope – Globe 09175097783 smart: 09395213041 Ms April – Globe 09064179568 smart: 09304081474 Ms. Ghin – Globe 09171537991 smart: 09304081475
Remittance- Mr. Carlos – Globe: 09362372979
Thank you and stay safe!
-Ichoose Team