Importance of Fire Insurance for Families and Businesses [Infographic]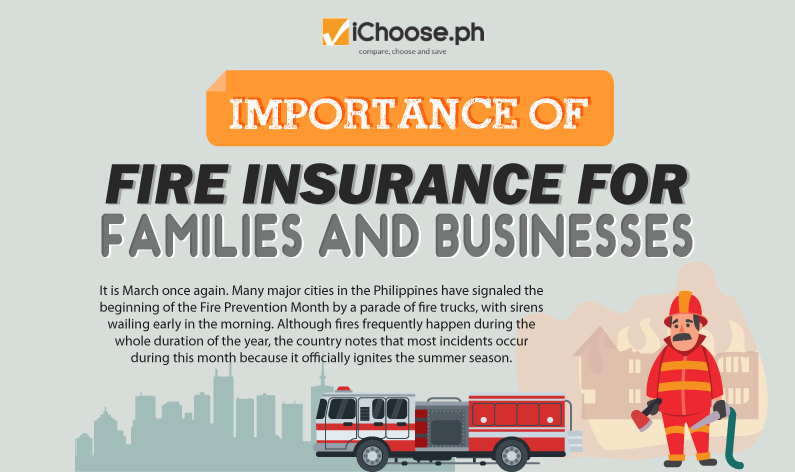 It is March once again. Many major cities in the Philippines have signaled the beginning of the Fire Prevention Month by a parade of fire trucks, with sirens wailing early in the morning. Although fires frequently happen during the whole duration of the year, the country notes that most incidents occur during this month because it officially ignites the summer season.
Yearly, many lives are lost because of fire, and many properties are turned into ashes in a span of a few hours. Building and fire codes are not strictly implemented in our country that is why the incidence of fire is high especially in metropolitan areas like Manila, where some communities live in houses made of light materials.
While fire incidents are very common in the Philippines, many residents and business owners are still not realizing the importance of fire insurance—when they finally do, it usually is too late. Moreover, they don't know how to ensure their properties in case of fire. If you ask them why they don't have a fire insurance policy, they commonly answer that it is just an expense and they certainly don't need it.
Myths you have to stop believing:
You can avoid fire when you are careful enough.
While it can be slightly true, you should never place your assurance on it. Fire can start with other houses, and eventually be caught up with yours. In reality, fire can happen to any house or to any building no matter how careful we are. Fire is a risk that every one of us should face. Getting fire insurance is one way of facing the risk of fire. If we insure our home, buildings, and properties from fire, we could get a lump sum amount of money from insurers to repair or build what we have lost.
Fire Insurance is not worth it.
Insurance companies should do information dissemination drive educating the public on the importance of getting fire insurance. The truth is, everyone—meaning every unit of community or sector of any industry can greatly benefit from getting fire insurance for their homes, businesses, and properties.
All Fire Insurance is expensive.
Because of its importance, some insurance companies made it possible for normal families and small-time businesses to avail of their own fire insurance.
Why you should get fire insurance?
The insurance claim will help provide your family with a new home after a fire. Being homeless is the last thing we don't want to happen to our family so fire insurance is highly important.
Businesses can have the peace of mind that when your stocks, products, equipment, and machinery are turned into ashes by fire, the amount you can claim from the insurance company will help you start over again. Fire insurance is one way of protecting your business, the source of your income. Going bankrupt after the fire is the least bad thing that could happen to you. By shelling out a very small portion of your profit to buy fire insurance, you have the peace of mind that whatever happens, your business will continue. If you own a building or establishment, you can also get a fire insurance policy for it.
The insurance claim will help you repair building damages due to fire. If you failed to get fire insurance, you may need a big amount of money to fix fire-damaged parts of your building. If your building is not restored to its original appearance, some of your tenants may go elsewhere and you lose your regular rental income.
Additional coverages you can choose from:
Extended Coverage (Explosion, Smoke Damage, Vehicle Impact, and Falling Aircraft)
Riots and Strikes
Malicious damage caused by a Third Party (e.g. a bystander intentionally hitting your window with a stone
Robbery
Earthquake Fire / Earthquake Shock
Flood and Typhoon
Properties that can be covered:
Building/s whether occupied as residential, commercial, industrial or used for warehousing purposes
Household contents
Building / Leasehold improvement
Machinery
Equipment
Stocks