Motorcycle Road Trip Tips [Infographic]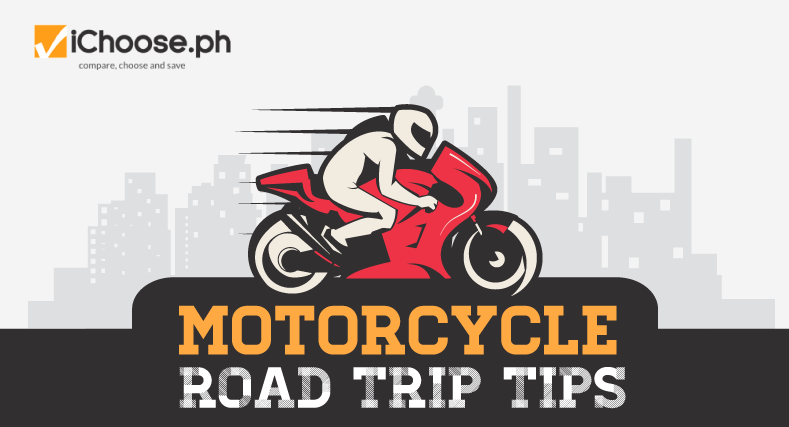 Like traveling with cars, riders should also be aware of the needed preparations and precautions they need to remember even before going on to the trip. It also takes careful planning.
Without the luxury of space, packing what you need for a trip on your bike can be even more challenging, yet not impossible. Before heading on down the highway, here some things you need to know and remember:
Make sure your motorcycle is in tiptop condition
It's a no brainer: before riding your bike, it is best to make sure everything on your bike is in 100% working order. It's wise to have it serviced before you leave – fluids changed, valves calibrated, fuel system cleaned, electrical system checked, bulbs changed and tires checked
What to pack?
Tire plug kit- Carry a tire-plug kit with a CO2 tire-inflation system or a small pump. This is to make sure that both of your tires are inflated correctly, which will spare you from any road accidents along the way.
Earplugs- While the majority think this is unnecessary, it is best that you bring earplugs with you, especially if you will be traveling for a long time.
Extra Gloves- It's wise to bring an extra pair of gloves in case your primary pair rips or gets lost.
Rain gear- Don't get caught in the elements without the proper gear. From a rain jacket and rain pants, don't forget to bring your weather-proof gear along.
Waterproof luggage and extra waterproof bags- If you expect to see rain, waterproof gear isn't the only thing to worry about. Make sure your belongings stay dry with waterproof luggage. If you aren't bringing luggage, at least have trash or zip-top bags to keep items dry.
Bungee cords- Loose baggage on the road can be a motorcyclist's worst nightmare. Bring along bungee cords and nets to secure luggage and loose items.
Personal and Vehicle Documents- Keep your necessary documents, including your ID, insurance, and roadside assistance information, in a secure place safe from the elements.
Motorcycle cover- If you're planning an overnight trip or an extended stop, bring your motorcycle cover to keep your bike pristine.
Basic repairing tools- If you know your way around a motorcycle, wrenches, sockets and other tools specific to your bike can help out in a pinch. Tools such as air pumps, flashlights or headlamps, hazard lights, cable ties, duct tape, Swiss Army knife and more can be helpful on a road trip.
First aid kit- It's always a good idea to carry a basic first-aid kit that can help tend to minor injuries. Pack some basic medicines for common diseases, some bandage, antiseptic, and alcohol ready at hand.
What to Wear?
Helmet- This is non-negotiable. Every rider should wear a helmet regardless of the distance they need to travel. When riding, always wear a full-face helmet for accident and weather protection.
Proper footwear- Make sure you have your riding boots, plus over boots or rain gaiters in case of bad weather.
Protective eyewear- It's important to have protective eyewear while you're out on the road, including sunglasses and rain/night goggles.
Travel bags- Backpacks and fanny packs that allow easy access to necessities (cell phone, map, glasses, etc.) can be a lifesaver on the road.
Driving in general posts a threat to every person, and riding a motorcycle while driving long distances greatly increases the risk of getting into an accident. To have the peace of mind, it is important that you follow the reminders on preparing for it, and practice safe driving while on the road. While no accident is really preventable, it is best that you have a motorcycle insurance policy that will cover any damage and you can rely on during these unfortunate times.
Motorcycle insurance varies on coverage and type according to your chosen option, however, here are some of the inclusions you should think about and consider getting for yourself:
Liability coverage: Required in most states, liability coverage may help pay for another person's medical bills or property repairs if you cause an accident while on your scooter or motorcycle.
Collision coverage: This coverage may help pay to repair or replace your motorcycle or scooter if it is damaged in a collision with another vehicle or object.
Comprehensive coverage: If your motorcycle or scooter incurs damage due to incidents such as fire, theft, or vandalism, comprehensive coverage may help pay for repairs or replacement.
Uninsured/Underinsured Motorist Coverage: If your bike or scooter is hit by a driver who doesn't have insurance or enough coverage to pay for repairs to your bike, uninsured and underinsured motorist coverage may help pay the related repair costs.