The Importance of Travel Insurance [Infographic]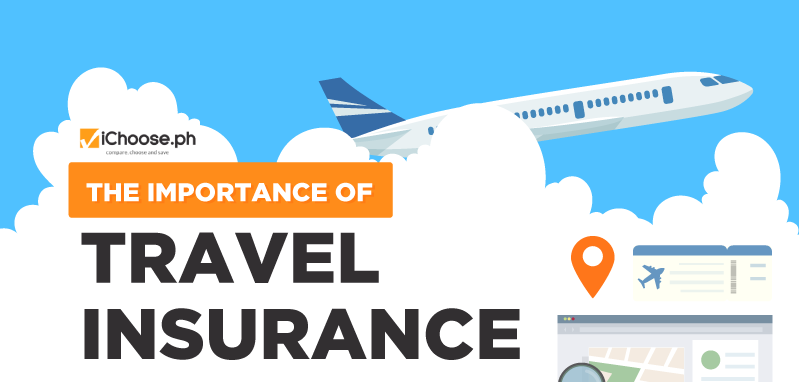 Traveling is one of the most exciting part when the summer season starts. However, traveling also requires extensive planning and execution on your part; from booking your flight, choosing the best accommodation, finding the right car service, it seems that it is impossible to have your trip without any hassle.
Most travelers nowadays take advantage of technology to ensure their comfort and while on the road. From mobile booking apps to sharing economy websites, the modern technology now allows us to experience a more memorable and effortless travel experience.
But there is one more advantage that travelers can get during travels, and that is travel insurance. Travel insurance is a plan you purchase that protects you from certain financial risks and losses that can occur while traveling. These losses can be minor, like a delayed suitcase, or significant, like a last-minute trip cancellation or a medical emergency overseas. In addition to financial protection, the other huge benefit of travel insurance is access to assistance services, wherever you are in the world.
In this infographic, we will discuss the critical aspects that travel insurance can help you, but first, let us examine what travel insurance covers during your trips.

Coverage of a Travel Insurance
By having a travel insurance, you are essentially covering yourself against travel risks such as lost or stolen luggage, cancellation cover (should you not be able to travel due to unexpected medical reasons) and most importantly, unexpected medical costs abroad. The big question now is, what does your chosen travel insurance plan covers?
A comprehensive travel insurance policy will provide:
̶    Emergency medical cover
̶    Losses incurred due to unforeseen cancellation or having to cut your trip short
̶    Death and disability cover
̶    Personal liability cover
̶    Luggage cover
Now that you are aware of the different use and coverage of a travel insurance plan, here are the reasons why you should consider investing in travel insurance prior your trip.
Save on Medical Costs – Regardless if it's domestic or international trip, every travel is exposed to different health and safety risks. Availing travel insurance for you and your family will give you the benefit to access treatments during your travel if specific physical injuries or health maintenance procedures catches up with you.
Reclaim Your Cancellation and Rescheduled Flight Costs – Cancelled or rescheduled flights can wreak havoc even on the best-made travel plans. Weather, technical issues and safety precautions could lead you to miss your connecting flight or fail to even get off the ground in the first place. Not being left out of pocket, is a reason to buy travel insurance to cover these expenses, so you won't be over budget before you even set off.
Covered Luggage Damage and Losses – If your luggage is stolen, lost or damaged overseas, you can end up significantly out of pocket – and if you don't have travel insurance, you alone will be responsible for that misfortune. If you take out the right coverage, however, you can be reimbursed for your losses and expenses, meaning that you won't lose money due to an airline or hotel blunder, or a thief's wrongdoings.
Personal Liability – If you're involved in an incident where you are found legally responsible for someone else's injury or damage to their property, travel insurance can cover you. Travel is always unpredictable. Whether you're in an unfamiliar country or at home, getting the right travel insurance for your needs could deliver you greater peace of mind and allow you to recoup your losses against any unforeseen eventualities.
Emergency Medical Transportation – During your travels abroad, certain unexpected incidents can always occur. Health concerns are one of the risks when traveling. If you already signed for a travel insurance plan that covers you to be adequately transported to a nearby hospital that can attend your medical needs, take note that you should have access on the contact information of your travel insurance company and the transportation service presented to you for accurate response.
How to Choose a Travel Insurance Plan
Whether you're traveling within the country or overseas, never underestimate the importance which a travel insurance policy holds. While you're at home, your life or medical insurance policy will cover you against a variety, perils, and risks.
However, only some life and medical insurance policies extend coverage to individuals traveling internationally. So, if you are planning a trip any time soon, make sure to include the cost of travel insurance instead of just keeping it as an afterthought.
Here are some ways on how you can choose the right travel insurance for you:
Check with Your Existing Insurance Provider – If you have already selected an insurance company, ask them if they can also cover travel insurance on your plan. This does not only save you from a costly journey but can also ensure that your money is being allocated adequately for you and your family's benefit.
Duration of Travel Insurance Policy – Though it might sound quite obvious but do check whether the policy you're about to choose covers the destination you're planning to travel to or not. This is because different systems have different terms and policies may have global coverage or specific geographical coverage. In case of a worldwide plan, do check the clauses for further details and sub limits
Type of Policy – There are different available travel insurance policies in the Philippines that you can choose from, but before you select a suitable insurance plan, also consider the coverage of the people whom you want to be included with your insurance.
It is cheaper to buy a travel insurance policy for a couple or a family, rather than taking individually. Choose a system which provides cover for all family members including children.
Emergency Assistance Services – In times of an emergency, medical or otherwise, trusted help can make a world of difference. Ay, you've lost your passport and need help getting a new or duplicate one issued or one of your accompanying family members has fallen gravely ill on the trip. Who do you call? In such cases, your travel insurer may be your best bet for help. Keep in mind; emergency assistance can be of great help while traveling overseas
To learn more about the different benefits and essential coverage of travel insurance, you may visit our website at www.ichoose.ph or contact us at 875 66 77.
Sources: