Best Places to Go to this Christmas and New Year [Infographic]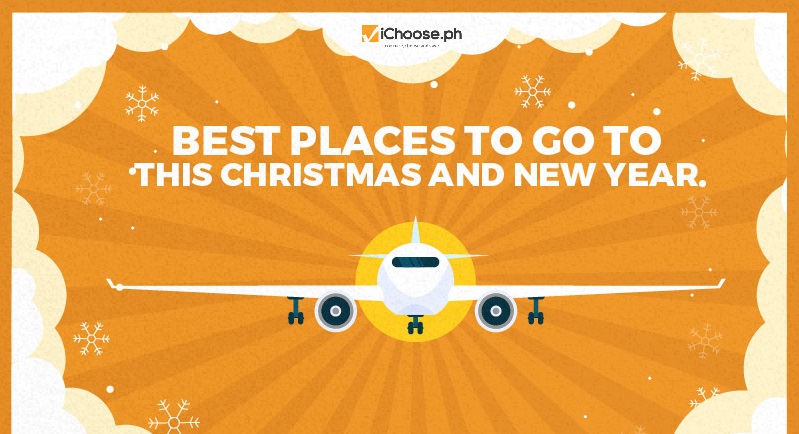 Many people want to travel nowadays so that they can experience something different from their everyday lives. Being able to celebrate somewhere else aside from people's homes lets people unwind from whatever problems or stresses they have back home.
If you're having problems deciding where to go, then read on and see where you can travel to during the Christmas and the New Year season.

Bacolod City, Negros Occidental
If the traveler is looking for a good place that offers excellent food, then Bacolod City in Negros Occidental is the perfect place to go to. Bacolod has a wide array of fantastic food choices that people will likely enjoy, especially when paired with the world-class hospitality of the locals.
Bacolod's sweets are among the most popular food that the locals can offer. In case the traveler has other plans for their trip, then they can stop by Bacolod as they go to other areas near it.
Bacolod is also known for its other beautiful sights, including the Bacolod Cathedral, Capitol Hall and Lagoon.
San Fernando, Pampanga
There's one season when Pampanga is illuminated with beautiful lights that will surely captivate a traveler's eyes. From December 14 to January 2, both locals and tourists will enjoy the sights provided by the annual Giant Lantern Festival.
Besides the beauty of San Fernando, Pampanga's massive lanterns, there's also the Sky Ranch amusement park that is great for kids. People can also have some fun with swimming in Villa Alfredo's.
The relatively mild weather that the Christmas season has in the Philippines will ensure that the road trip will be a laidback one where people can enjoy the beauty of Pampanga.
Baguio City, Benguet
There's no snow in the Philippines, and the closest thing that people can have to experience the cold brought by the winter is to go to Baguio City, Benguet. The Summer Capital of the Philippines is also considered as the Winter Capital of the Philippines, and its many bazaars, flea markets, and the winter vibe will surely let people enjoy their time traveling.
Baguio also has a healthy selection of food from various fresh fruit and vegetables.
Cavite
Cavite is one great province that's situated just south of the National Capital Region, and this province has one city that people can consider as an alternative to Baguio, and this is Tagaytay City. Travelers can naturally enjoy the wonders that Tagaytay can offer, but there are still more travel destinations in Cavite besides that one city.
There are many beautiful sights in Cavite, ranging from De La Salle University-Dasmariñas's Museo de La Salle, Kadiwa Park also in Dasma, Aguinaldo Shrine, and others.
Kawit, Cavite, also hosts a festival that arguably highlights the true spirit of Christmas, the Maytinis Festival, which is held every Christmas Eve.
Palawan
The island of Palawan is known as the Last Frontier, but can also be called "Christmas in Paradise." Palawan is home to pristine beaches and natural wonders, and visiting this island is one great way to celebrate Christmas.
People can celebrate both Christmas and the New Year in the various vacation spots on the island as they enjoy the local cuisine. Travelers who are looking for a place where they can enjoy the beauty of nature without being too distant to civilization will find the Last Frontier as an ideal travel destination.
Metro Manila
Manila is one of the most accessible places in Luzon in terms of the abundance of malls, theme parks, museums, bazaars, and hotels. Many people from the provinces want to enjoy whatever sights and experiences the cosmopolitan area of Manila has to offer, especially since the Christmas season only happens once a year.
People can enjoy the various theme parks and museums in Manila, including The Upside Down Museum in Pasay City and the Art in Island 3D Interactive Art Museum in Cubao.
The various malls and bazaars in the area are also a treat for many people's eyes and a great way to spend their 13th-month pay and Christmas bonuses.
Cebu
Because Metro Manila is on the list, there's no chance that Cebu will be out of the list. For travelers who want to experience Simbang Gabi in the beautiful churches of Cebu like Basilica del Santo Niño, Simala Lindogon Church, and others.
The Queen City of the South is also known for its food that travelers can enjoy alongside the city's warm ambiance. Travelers can also treat Cebu as a gateway for the nearby islands.
Davao
Luzon and Visayas already have Metro Manila and Cebu on the list, respectively, and Mindanao will not be left out. Davao currently shines during the Christmas Season with its beautiful People's Park, Eden Nature Park, Matina Town Square, and others. The various attractions in Davao will surely not hurt your pocket and will surely be great for the budget-conscious.
Traveling around the Philippines is one great way to celebrate Christmas and the New Year, but it can never be complete without the appropriate travel insurance.
For more information on the right travel insurance for you, visit our website at ichoose.ph.