Checklist Before Going on Your First Lockdown Road Trip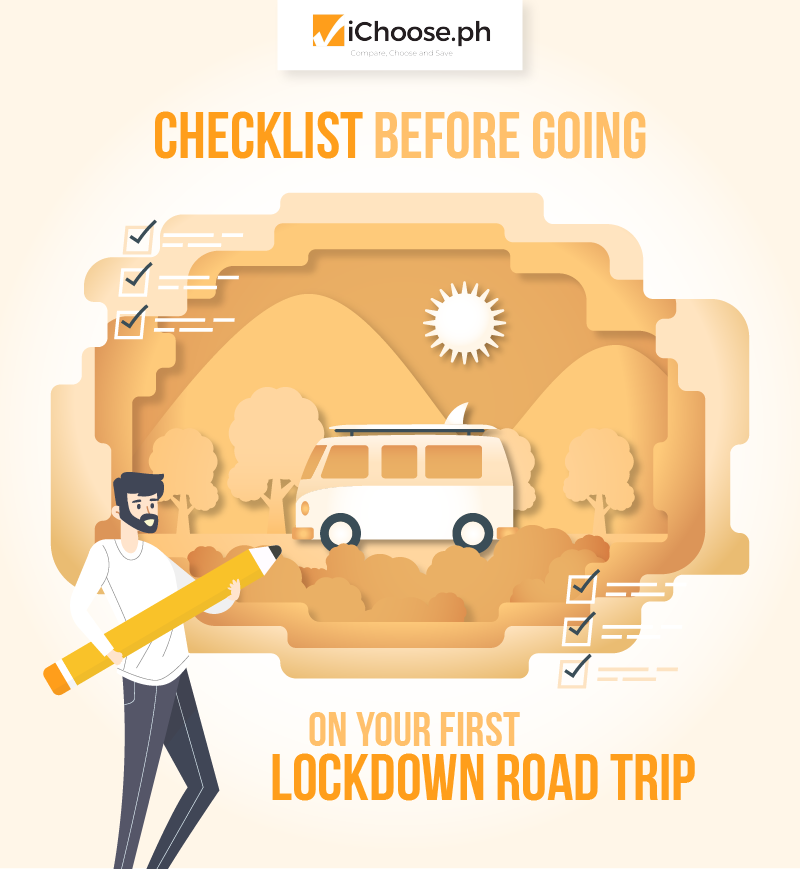 More than a year after the COVID-19 pandemic broke out, the Philippines is still implementing quarantine protocols and other restrictions to limit the spread of the virus. Currently, the government has downgraded their COVID-19-related protocols, enabling Filipinos to do certain activities, such as going on road trips and visiting destinations.
If you are planning to go on your first road trip during the pandemic, there are various things that you must first do before hitting the road.
Here is a checklist to help you prepare for your trip:
Prepare Your Car and Yourself
It is vital to ensure that your vehicle is optimal for your road trip, as you would not want to be inconvenienced or get caught in a minor or major collision because of mechanical problems.
Before heading out for your trip, you must first conduct vehicle component checks and maintenance. You can have your car serviced by a trusted mechanic to guarantee that your vehicle's engine and other systems are functioning well. Meanwhile, if you can conduct the maintenance checks yourself, you should check your BLOWBAGETS. This stands for Battery, Lights, Oil, Water, Brake Air, Gas, Engine, Tire, and Self.
You should check on yourself too if you are experiencing tiredness, sleepiness, or in no condition to be driving. When you are suffering from any of these, it would be best to let someone else take the wheel.
Plan Your Road Trip Route and Stops
With restrictions in place, it is better to plan where you are going. Choose a destination that is not generally visited by many tourists and is not a COVID-19 hotspot. Moreover, you should be familiar with the route of your road trip. This allows you to prepare for potential problems, such as road closures or roadway congestions and lets you find an alternative way to get to your destination.
In addition, knowing your road trip route also allows you to locate gas stations or restaurants where you can safely take regular breaks, stretch your legs, or hand over driving duties to your peer or family member. It is recommended to take at least 15 minutes rest every two or three hours of driving.
Book Accommodations Ahead of the Trip
If you plan to go on a long road trip and stay at least a day or two at your selected destination, it is essential to book your accommodations in advance. Look for places that are deemed as COVID-safe facilities. Check online and call travel accommodations to know more about their processes, facility crowdedness, as well as cell signal strength.
Pack Travel and Pandemic Essential Items
When going on a long road trip, it is essential to bring portable chargers, cellphone signal boosters, water, and snacks. And, of course, you should pack pandemic essentials like masks, face shields, hand soap, sanitizer, face and body cleansing wipes, and disinfectant wipes for mobile phones and other electronic devices.
Ensure Protection Coverage for Your Vehicle
Even when you practice defensive driving, you can never be too safe on the road. Thus, to get more protection for you and your vehicle when driving long distances, getting insured is an excellent way to do so.
Having a car insurance Ph is perfect for ensuring that you are financially secure if anything happens when you go on a trip. This type of insurance covers you from having to shell out significant amounts of money to pay for repairs or replacement costs of damages incurred in an accident.
How to Select the Right Car Insurance?
As various insurance providers have a wide range of car insurance policy offers, it is vital to shop around to ensure that you get the right insurance coverage for yourself and your vehicle. You can use a comparison website insurance Philippines to expedite the process of comparing car insurance products from different insurance companies.
iChoose PH is the leading insurance comparison site in the Philippines. It enables consumers to make the right decision when selecting a car insurance policy. Visit their website at iChoose.ph to view unbiased quotations from some industry's leading insurance companies.
Read More: How to Get Ready for a Christmas Road Trip [Infographic]