Insurance and COVID-19: How Health Insurers Support Clients and Agents [Infographic]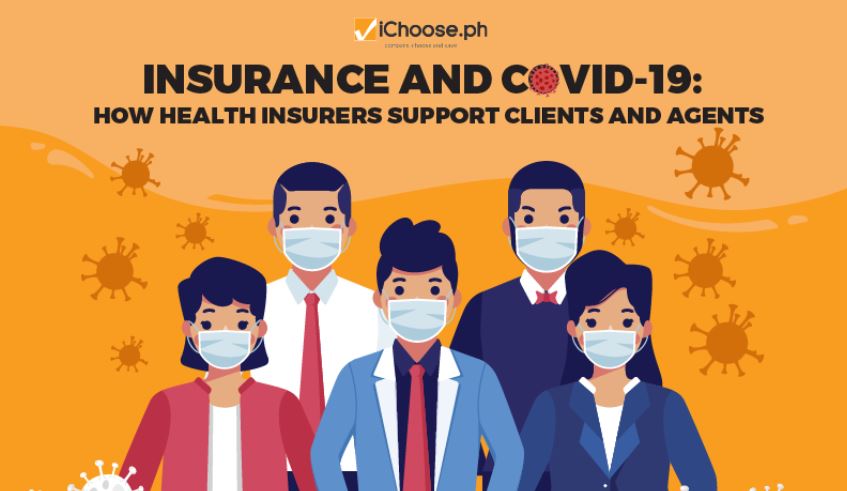 The coronavirus pandemic has affected the normal flow of work and business, halting operations during the first few months of 2020. Various companies, including insurance firms, have temporarily closed during the enhanced community quarantine implementation in March and continued during the Modified ECQ in May and the current general community quarantine.
The strict regulations of the community quarantines have affected individual lives and the workflow of businesses. For example, most insurance companies and agents invite and entice possible customers through face-to-face transactions. However, this traditional method of gaining clients is impractical during the lockdown and spread of a contagious and dangerous virus.
Although COVID-19 has provided inconvenience to the insurance industry, the Insurance Commission and insurers have made the sales of policies more accessible and convenient by allowing agents to sell online and offer more benefits for clients. Hence, gaining more health insurance Ph customers amid the pandemic and quarantine period.

Agents have been allowed to sell policies online
The health crisis's seriousness has shone the light on the importance of having an insurance coverage plan. Hence, availing health insurance can secure financial protection from medical expenses.
However, the face-to-face selling of insurance policies has stopped for about four weeks due to the strict implementation of community quarantine and social distancing regulations. The Insurance Commission has provided regulatory relief to insurers, allowing firms and licensed financial advisors to conduct insurance sales through non-traditional channels to reach interested customers who want to secure COVID-19 protection.
Due to this, more people have communicated digitally with insurance agents and talk about their interest in policy coverage and even have a successful insurance transaction. It has also allowed advisors an advantage to conduct their work at home and without the need to have face-to-face contact with customers.
Additional benefits have been given to clients 
Although most Filipinos have viewed insurance policies as a financial burden rather than a source of funds for contingencies way before the pandemic, several people have re-evaluated the value of having health and financial coverage.
It also comes after firms have heeded the call to ramp up support for the COVID-19 fight, with private insurance companies including COVID-19 protection as part of their offered insurance coverage plans. The additional benefit gives clients financial coverage and shoulder medical expenses if they fall sick or die.
Results of the response of health insurers to the pandemic
According to a survey conducted by the Insurance Commission (IC) on health insurers' overall response to the pandemic, about 58% of insurance providers, Mutual Benefit Associations (MBAs), and Health Maintenance Organizations (HMOs), have issued health insurance products. About 61% of which have covered pandemic cases.
Consequently, a total of P326.95 million have been paid to policyholders affected by the coronavirus pandemic. The insurers have indicated that P307.26 million from the total amount was in payment of contractual obligations. And about P19.68 million was ex-gratia payment.
According to IC Commissioner Dennis Funa, the insurance payments provided by regulated entities have shown their resilience and efficiency to respond to their insurance customers' needs. Furthermore, most insurance providers surveyed have indicated that they have provided and will continue to provide coverage for pandemic cases.
In contrast, others who have not yet added pandemic cases coverage on their insurance products have indicated that they will consider providing it in the future. It comes as only 22 out of 30 life insurers cover pandemic cases, while only 15 out of 54 non-life insurers indicated pandemic coverage on their health insurance products. Moreover, 10 of those 25 HMOs surveyed have detailed they cover pandemic assistance, but with maximum limits, and only 4 out of 33 MBAs cover pandemics.
Conclusion
During these difficult times, where a dangerous transmittable disease causes inconvenience and fear to people, it is vital to see the importance of health insurance in Ph.
You do not have to choose the most expensive insurance plan in the market. Instead, you must select the coverage plan that fits your budget and your needs. Hence, it is essential to have proper health insurance comparison to weigh your options and the benefits you can get from different plans.
Looking through comparison website insurance Philippines can help you select the best health insurance option for you. Visit our website at iChoose.ph to see the ideal coverage plan for your health and financial protection.