Purchasing a Car with a Car Loan: Advantages and Disadvantages [Infographic]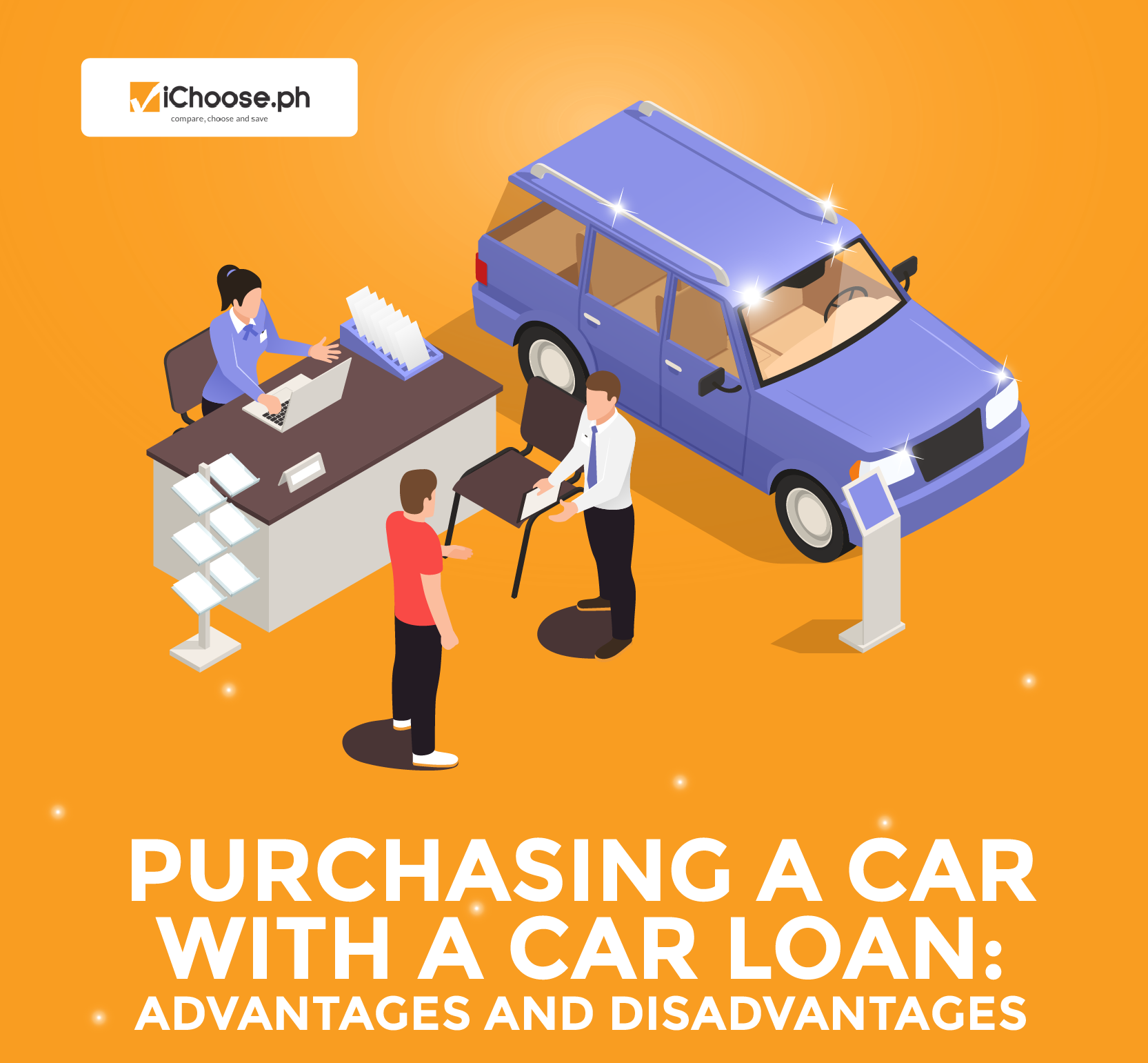 Buying a car is no longer a luxury but a necessity for Filipinos, especially those who have used the country's inadequate and inefficient mass transport system.
Car buyers have many factors to consider when purchasing a vehicle. Besides the fuel, maintenance, and car insurance Ph costs, they also need to deliberate on paying for their cars.
Paying in cash is the cheapest way to purchase a car. However, this payment method is not something everyone could afford. Fortunately, buyers are given an alternative option to financing their vehicles, allowing them to buy a car even when they lack the necessary funds to pay upfront.

What is a Car Loan?
A car loan is a financing system that allows people to own a brand-new car more efficiently and flexibly. Borrowers receive a sum of money from a bank, finance company, or credit union to purchase a vehicle, then pay it back over time.
There are two types of car financing: bank and dealership, and each have its advantages and disadvantages. Knowing the difference between the two can significantly help car buyers get the best deal.
Bank Financing 
Getting a car loan through the bank is seen as the most straightforward route when purchasing a car. The process is relatively direct, particularly for people who have a strong relationship with their banks. In contrast, applying for a car loan in a banking institution can also be more complicated as they have a set of specific conditions and documents required for approval. They also conduct a thorough investigation of the borrower's credit history and finances.
– Lower interest rates
– Cheaper monthly amortizations
– Solid payment terms with interest spread evenly throughout the loan term
– Select banks allow their clients to get pre-approved for a car loan, but only if they have an excellent customer record and have been using their service for a long time.
– Customers can get discounts on interest rates if they utilize the bank's products, such as credit cards or other accounts.
– Car loan rates are often non-negotiable
– Banks have stricter requirements for car loan applications
Dealership Financing
Dealership financing, which is also called an in-house or indirect loan, is a type of car loan offered directly by a retailer to their customers. Dealers then send their customers' credit information to different lenders, whether a bank or other third-party financial institution. Once approved, they will send back a quotation for the car buyer to choose from.
– Easy, convenient, one-stop-shop for car buying
– Dealers have more car loan offers for buyers to choose from
– Dealership car loans have much more lenient requirements
– Higher interest mark-up. The longer the customer pays, the higher the interest will be.
– Dealerships are often aggressive in terms of selling products to potential customers, which may see buyers purchasing a model higher than what they could afford or getting additional products and services
Conclusion
A car loan makes it possible for people to have access to a vehicle they would not have otherwise been able to pay upfront.
Weighing the pros and cons of bank or dealership financing and comparing car loans from various financial institutions will help car buyers look for loans with reasonable interest rates and monthly repayment. Hence, making their car purchase a worthwhile investment.
To further protect their investment, car buyers also need to shop for the best car insurance policy. Comparing car insurance allows car owners to view various insurance policies and the benefits that come along with them. It makes it easier to determine which car insurance policy fits their needs and budget. Looking through a website that offers services for car insurance comparison Philippines can make the process of selecting an insurance policy seamless.
iChoose PH is the leading car insurance comparison site in the Philippines. It enables car owners to make the right decision when selecting a car insurance policy. Visit their website at iChoose.ph to view unbiased quotations from some of the industry's leading car insurance companies.