Factors that May Affect Your Car Insurance Premium [Infographic]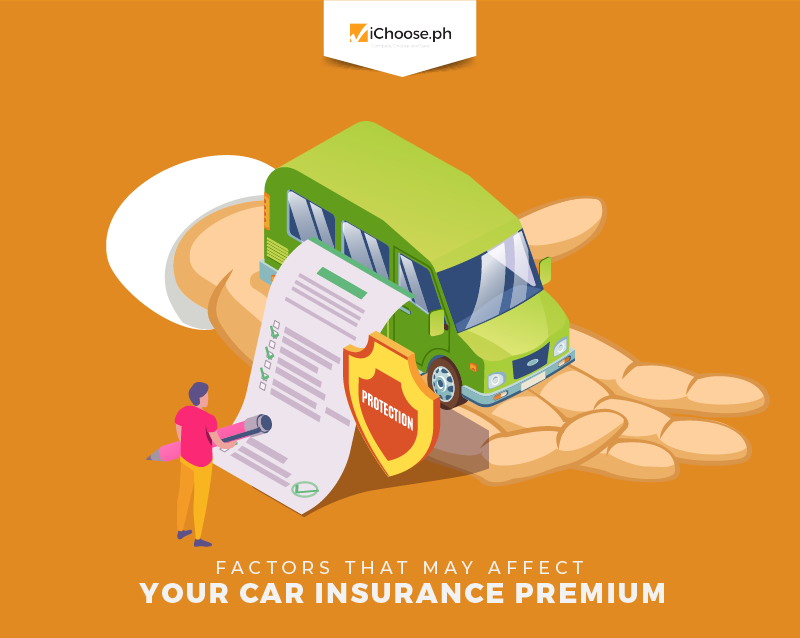 With the inherent dangers of driving along the Philippines' highways and the increasing number of vehicular collision incidents, there is no denying that availing of car insurance is wise and sensible. It provides you peace of mind when it comes to the financial woes of getting into an accident. Such liabilities include financial and legal obligations due to third-party deaths or bodily injury, property damage, and repair costs.
But before purchasing car insurance, it is vital to understand first how insurance companies determine the car insurance policy rates. This will help you make the necessary adjustments, particularly if you plan to have the cheapest car insurance premium.
The Type and Amount of Coverage
There are two types of car insurance in the Philippines: compulsory third-party liability (CTPL) and comprehensive insurance, and each have different coverages that fall under them.
CTPL insurance Philippines is mandatory for all car owners. It is among the requirements for registering your vehicle or renewing its registration at the Land Transportation Office (LTO). This type of insurance covers up to 100,000 pesos for death, bodily injury, and medical expenses of third-party victims due to an accident involving or caused by the insured car.
On the other hand, comprehensive car insurance Ph is optional for vehicle owners. It provides you with more coverage, aside from those included in a CTPL policy. It can protect you against risks like loss, personal accidents, property damage, accidental collisions, theft, malicious acts by third parties, fire and explosions, and Acts of God (injuries caused by natural disasters).
Generally, the type of car insurance you choose and the amounts of policy coverage you get affect how much premium you will pay.
Car Make, Model, and Cost
Insurance companies consider the cost, make, model, and overall safety of your car as a significant determining factor of your insurance premium's cost. A high-end vehicle will have a higher premium given that these types of automobiles are at higher risks from theft and break-ins.
While high horsepower (or bhp) is a desirable feature in the motor trade industry because it promises better acceleration, top speed, and driving performance, a vehicle with high bhp is seen as a motor vehicle that has high chances to be involved in an accident. Thus, the more powerful the car is, the higher the premium.
Moreover, insurance providers look at your car's make and model when determining the cost of your premium because they also consider its repair cost and how easy it can be fixed when it gets damaged in an accident. They also look into how safe the car is to drive, how well it protects occupants, and how much potential damage it can inflict on another vehicle.
Driving habits and location
Your location and driving habits are also among the factors that determine your insurance premium. If you drive or live in a city, you are likely to pay more for car insurance Ph. This is because cities have a higher incidence of theft and accidents.
Insurance providers also consider the purpose of your vehicle, the distance you travel using your car, and how often you use it. They will closely scrutinize your vehicle's mileage and exposure on the road, as the more time you spend driving, the higher the risk you get involved in an accident.
Driving Record
Your driving history also plays a significant role in the pricing of your insurance policy. Having a good driving record can lower your premium. In contrast, if you have been involved in accidents or have had severe traffic violations, you can be subject to a higher insurance premium. This is because a driver with poor driving records is more likely to be involved in an accident or face legal or financial liabilities. Such risks can result in car insurers paying significant amounts during claims.
Age and Gender
Insurance providers also consider your age and gender when calculating your insurance premium. Older drivers usually pay less premium than younger and less-experienced drivers. This is because insurers see those mature drivers have a greater driving experience and are less likely to get involved in an accident or damage their vehicle.
Accordingly, men are more likely to face stricter scrutiny or have a higher premium when getting car insurance than their female counterparts, as insurance companies consider men to be at a higher risk of getting into accidents.
Conclusion
While you cannot adjust some factors that insurance providers consider when determining insurance rates, you can still lower your premium by changing your driving habits, maintaining a clean driving record, and deciding what type of insurance and the amount of insurance coverage you want.
Besides these, you can also leverage comparison website insurance Philippines to expedite the process of finding an insurance policy that meets your budget and needs.
iChoose PH is the leading car insurance comparison site in the Philippines. It enables car owners to make the right decision when selecting a car insurance policy. Visit our website at www.iChoose.ph to view unbiased quotations from various car insurance companies.