Understanding the Act of God Insurance Coverage [Infographic]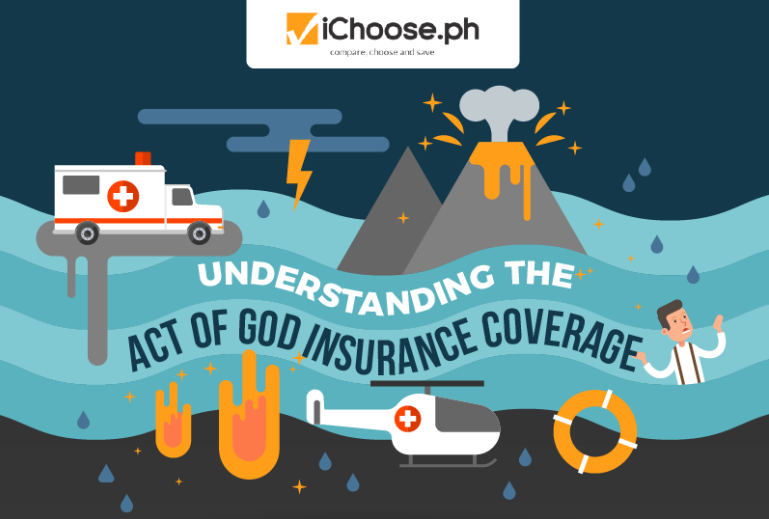 The Taal Volcano has recently erupted last January 12 and spewed ash up to 14 kilometers into the air while generating volcanic lightning. Due to the eruption, many people have been affected in various ways, including damages to homes, livelihoods, and other property. The losses incurred are costly and make the idea of getting insured more practical for the property owner.
The Acts of God coverage started seeing popularity among people due to the devastation wrought by typhoon Ondoy, which led to the death of 500 people and destroyed an estimated number of 14,000 motor vehicles. The recent Taal Volcano eruption should also be seen as a wakeup call to get insured since the damages incurred from a natural catastrophe can significantly hurt an individual financially.

What can be classified as an "Act of God" include the following:
Animal contact (including hitting an animal while driving on the road)
Earthquakes
Fire
Civil unrest
Typhoon and flood
Volcanic eruptions
Those covered in the Act of God coverage may vary depending on the insurance providers.
How does the Act of God coverage work?
The Act of God coverage is still an optional add-on coverage despite the various calamities that beset the country, which is why people should consider getting them for additional security.  A comprehensive car insurance policy still does not cover Acts of God, and home insurance policies don't naturally cover them under Acts of God, but as individual coverages offered by insurance providers.
Car owners will have to pay an additional 30% to 40% of their insurance premium to ensure that they will be covered for Acts of God, and homeowners will need to ensure that their insurance policy covers the particular Act of God they want.
Who will Fully Benefit from Act of God Insurance Coverage
Car owners who are still paying for their car loans or have their vehicles mortgaged will benefit from an Acts of God coverage. The policy may cover up to the car's fair market value, depending on the provider. A brand-new car will fully benefit from the Acts of God coverage since the car has yet to depreciate.
Cars depreciate by 10% every year, and second-hand cars have already suffered from depreciation, which means that their fair market value, as well as the financial coverage offered to policyholders, have reduced.
Homes with Force Majeure or Acts of God coverage, or those covered with particular instances that include what can be classified as Acts of God, can fully benefit from the insurance policy.
Cost of Act of God Coverage
The cost of getting insured varies per insurance company, which is why it's essential to compare the insurance policies provided by the top insurance companies. An individual that seeks to add Acts of God coverage will have to add a bit more to their insurance premium.
Comprehensive car insurance will cost around 1-2 percent of the vehicle's total value, and the Acts of God coverage will add 30 percent of the total premium to the insurance. Brand new cars that have yet to depreciate will fully benefit from comprehensive car insurance with the add-on Acts of God coverage, but a second-hand vehicle might not. A car owner with a second-hand car might see the Act of God coverage as an added cost since the car's total market value is already low, to begin with.
Limitations of Act of God Coverage
The Act of God add-on coverage doesn't always include every natural disaster, and people will have to check the plan first to ensure that they're covered from the particular Act of God that they need. Besides ensuring that the insurance plan has the desired disasters, people must also understand what damages can be considered to be caused by Acts of God.
A natural disaster can cause significant damages to many people's property, but some of the losses could have been avoided had it not been due to negligence.
One example of receiving damage due to negligence is a driver risking to get through EDSA's waist-deep flood and ending up with a damaged car. The driver will be able to file a claim if there was a warning from PAGASA about heavy rains, and the car got stuck in traffic, then a sudden torrential downpour caused a flood that damaged the car.
Another instance of negligence is when a homeowner's termite-infested tree falls on another person's car and crushes it. A typhoon had also just struck the area. If the cause of the tree's fall is determined to be due to the termites that the homeowner neglected, then the car owner can file an insurance claim due to negligence and not through an Act of God.
Individuals protected by Acts of God coverage will still have to take steps to ensure that none of the damages they receive are because of their negligence. People should not disregard getting comprehensive car insurance, and they should also consider getting the add-on Acts of God coverage for additional protection. Home insurance policies might not include an Acts of God add-on, but some plans still include particular Acts of God, making a comprehensive home insurance plan a must.
Visit our website at ichoose.ph now and start comparing the best comprehensive insurance plan for you.