Home Insurance Myths You Should Stop Believing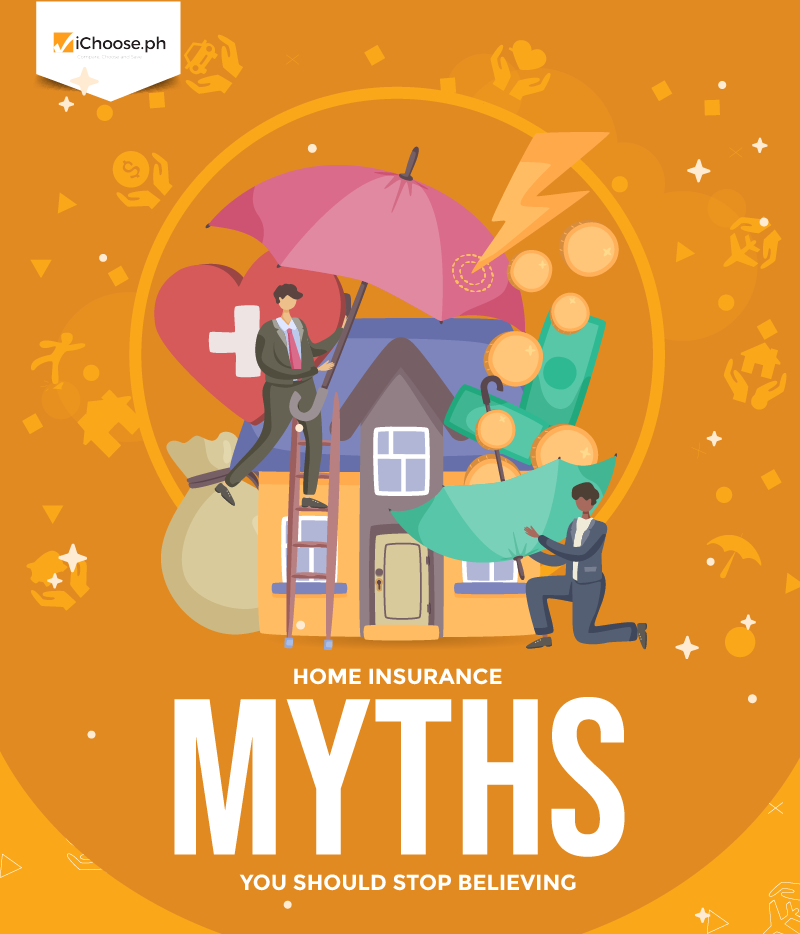 Many people are still feeling overwhelmed when they hear or talk about insurance in the Philippines. While many Filipinos recognize the importance of having insurance coverages, others are still lost and confused regarding the specifics of policies.
The misconceptions and false beliefs surrounding insurance are among the reasons why some Filipinos still tend to feel intimidated by the idea of acquiring life insurance and other non-life insurance Philippines products, such as home insurance.
If you have been considering whether to buy an insurance policy for your home, you must not only what home insurance is, which situations your policy will cover, and the cost of premiums. You also need to clear the myths surrounding the type of insurance you want to avail of.
Here are some of the misconceptions that you must stop believing:
MYTH: Home insurance is a waste of money.
FACT: Home insurance Philippines protects the most significant single investment you will ever make – your home. Your insurance policy provides you with a financial safety net to protect your investment.
Having home insurance allows you to protect yourself against home loss and damage financially and have liability coverage against accidents on the residential property and inside the house.
MYTH: A home insurance policy only covers the house.
FACT: A basic or standard home insurance policy covers not only the house but also its contents, including jewelry, appliances, fixtures, and furniture. Therefore, when you file for a claim, your insurance provider will cover the cost of reconstructing or fixing your property based on the current price. They will also provide coverage to your personal belongings inside your home based on the actual cash (depreciated) basis.
MYTH: Home insurance covers all belongings inside the home.
FACT: Home insurance policies cover your home's contents, but there are limits to what is covered. Your policy premium might not cover certain types of your belongings. For these items, you will need to purchase "add-on" coverage on your policy to ensure that they will be covered if something happens to them.
MYTH: Making an inventory of my possessions is a waste of time.
FACT: As your insurance covers not all your personal belongings, home inventory is essential in managing your insurance. It will help you know which items are covered by the insurance and which are not, allowing you to prove that you owned the things when seeking insurance coverage for them.
Furthermore, making an inventory list of your possessions can help you when filing an insurance claim. Having proof that you own such belongings can help you have a smooth claims process and ensure that you get reimbursed adequately.
MYTH: Older homes are cheaper to insure.
FACT: Older houses are more expensive to insure since these can cost more to repair than newly constructed homes. Consequently, house elements like plumbing in older homes are more likely to fail when compared with plumbing in newer homes that have used upgraded pipes and materials.
MYTH: Home insurance does not cover "acts of God" or natural disasters.
FACT: Some home insurance products do cover "acts of God" or natural disasters.
Like other types of insurance, there are different types of home insurance: basic (standard) and extended (comprehensive) coverage.
A standard home insurance policy covers the house and most valuable items (up to the selected limit of the insurance) from damage or loss from lightning or fire. Meanwhile, comprehensive home insurance policies cover the home and its contents against lightning or fire and natural disasters, such as earthquakes, floods, volcanic eruptions, storms, tsunamis, and mudslides. In addition, depending on the policy coverage, your insurance can also cover human-made disasters, like explosions and car crashes.
Conclusion
Debunking myths about home insurance is essential when you are a homeowner. It will help you understand the importance of having home insurance coverage as it plays a significant role in protecting you and your investment – financially. Home insurance provides you protection both during the wet and dry seasons. Fire, lightning, and other natural calamities can happen unexpectedly and have harsh effects or damage to your home and valuable assets.
Moreover, some misconceptions and false beliefs on home insurances come from misunderstanding policy coverages. Thus, it is vital to know which type of insurance coverage you want for your home and understand what is covered and not.
To ensure adequate coverage, you must shop around as there is a wide range of home insurance coverage policies offered by different insurance companies. You may use comparison websites like iChoose PH to compare coverage plans. It will help you narrow down your choices and select the policy that fits your needs and budget.
iChoose PH is the leading insurance comparison site in the Philippines. It enables consumers to make the right decision when an insurance policy. Visit their website at iChoose.ph to view unbiased quotations from some industry's leading insurance companies.